BMW 530e plug-in hybrid revised for 2019
The BMW 530e PHEV has been updated with a new battery pack, better economy, reduced emissions and a longer all-electric range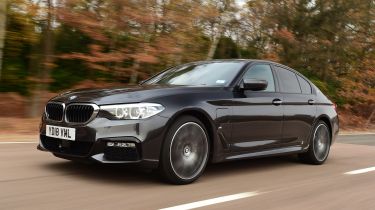 The BMW 530e plug-in hybrid has been revised, with changes bringing about claimed improvements in fuel economy, all-electric range and a reduction in its CO2 output.
The German brand has also bolstered the 5 Series PHEV's line-up with a new, four-wheel-drive xDrive variant. Prices are yet to be confirmed for both models.
The new 530e features a denser battery pack than the outgoing model; its energy capacity has expanded from 9.2 to 12kWh with no increase to its physical size. As a result, the rear-wheel-drive 530e now has an electric range of 41 miles and CO2 emissions of 41g/km; a respective improvement of 12 miles and 5g/km.
• New BMW 530e iPerformance 2017 review
BMW claims the new lithium-ion battery pack can be charged from a household socket in less than six hours, or around three-and-a-half hours when using the brand's iWallbox fast charger. BMW has also improved the standard 530e's fuel economy by around 20 percent, from a claimed 156.9mpg to 176.5mpg.
Like the outgoing model, the new BMW 530e is powered by a turbocharged 2.0-litre four- cylinder petrol engine, mated to an electric motor and an eight-speed automatic gearbox. Power and torque figures remain the same at 248bhp and 420Nm, as does the car's 6.1 second 0–62mph time and 146mph top speed.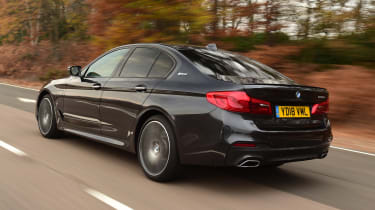 The new four-wheel-drive BMW 530e xDrive features the same petrol engine and electric motor setup. It also shares the rear-wheel-drive model's 146mph top speed, although its 0–62mph is slightly slower, at 6.2 seconds. Naturally, the 530e xDrive's fuel economy and emissions are worse than the rear-wheel-drive variant's, at 141.2mpg and 49g/km of CO2.
Both models come with two driving modes. 'Auto eDrive' is the standard setting and allows purely electric driving at speeds up to 68mph, while 'Max eDrive' mode raises that limit to 87mph. When driving electrically at speeds up to 19mph, both models also generate an acoustic alert, to warn other road users of the cars' presence.
• Best hybrid cars to buy 2019
Optional equipment for the 530e and the 530e xDrive includes adaptive suspension, a 12.3-inch digital instrument binnacle, a larger 10.25-inch infotainment system, an advanced parking assist function and a range of alloy wheels in sizes between 17 and 20 inches. Both models also come with programmable auxiliary air conditioning as standard, allowing owners to remotely set their car's temperature using a smartphone application.
Now read our run-down of the best hybrid cars on sale now. Let us know your thoughts in the comments section below…