Lexus and BMW team up to create an Audi R8 crusher
Lexus and BMW have versions of the new 800bhp supercar due by 2020 at a £160k price point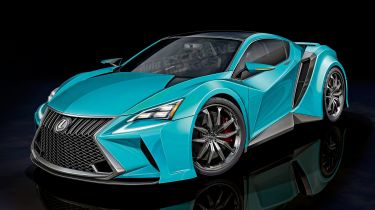 BMW is teaming up with Lexus to develop a supercar that will outperform Audi's R8, Auto Express has learned.
A source close to Lexus says the companies have jointly built a mid-engined all-wheel-drive prototype, and our exclusive image shows how it could look. BMW and Lexus versions will be produced, and both will use an aluminium spaceframe and carbon fibre tub, with electric motors powering the front wheels and petrol feeding the rears.
Two power units are being developed. The power source for BMW's supercar will be a bespoke M-developed straight-six twin turbo with plug-in hybrid tech courtesy of Toyota, while Lexus is thought to be testing a detuned version of the 513bhp 3.7-litre V8 from Toyota's TS040 Le Mans race car.
"While 1,000bhp is possible, fuel consumption, emissions and engine tolerances will see a more realistic figure of 800bhp targeted," our source said.
BMW chose Lexus for help in developing a new supercar as it was impressed with its work on the flagship LFA during the financial crisis of 2008. It was that economic meltdown that killed Honda's V10 NSX, and forced Toyota to shelve several sporty models.
A limited run of only 500 LFAs finally landed in showrooms in 2010 with a sticker price in excess of £340,000. According to our source, the BMW and Lexus supercars will be on sale by 2020 priced from £160,000.
Do you like the idea of a Lexus/BMW supercar? Let us know in the comments below...