BMW reveals plug-in hybrid X1 for China
Catchily-named BMW X1 xDrive25Le iPerformance features plug-in hybrid powertrain but is for China only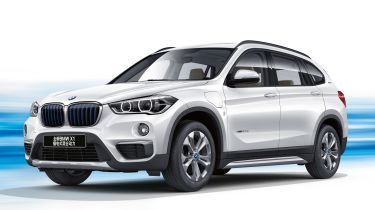 BMW has unveiled a plug-in hybrid X1 SUV for China based on the long wheelbase crossover. Called the X1 xDrive25Le iPerformance it has been revealed at the Chengdu Motor Show and is the first crossover in its class to be offered with plug-in hybrid powertrain. There is no official word yet as to when the technology will be made available in the UK. 
The X1 xDrive25Le iPerformance is powered by a 134bhp 1.5-litre three-cylinder turbo, which is paired with a rear axle-mounted 94bhp electric motor. Together total output is 385Nm of torque – enabling the X1 to hit 0-62mph in 7.4 seconds. BMW also claims fuel economy of 156mpg. 
In fully electric mode the X1 is claimed to be able to cover up to 37 miles at up to speeds of 75mph. From a 220V charging wall-box the lithium-ion battery can be fully replenished in less than four hours. To maximize fuel efficiency various in-car electrical systems are powered by the lithium-ion battery.
The battery is located beneath the floor in the middle of chassis but does impact on interior space slightly. Boot capacity falls from 505 litres to 445 litres.
Visually, only the additional filler cap and i badging beneath the A-pillar mark out the X1 xDrive25Le iPerformance. Based on the long wheelbase X1 – only sold in China – the new plug-in hybrid model is 79mm longer than the standard wheelbase SUV sold in the UK.
Would you like to see a plug-in X1 in Europe? Leave us a comment below...