BMW X5 eDrive prototype plug-in hybrid review
Upcoming plug-in hybrid BMW X5 eDrive promises small car economy in a big SUV, but will it deliver?
The camouflage on this BMW X5 eDrive serves to remind you that it's still a prototype, but it shows plenty of promise for what's set to be the most efficient X5 model by quite some margin. It feels just as fast, refined and luxurious as every other model in the line-up. If it's not too pricey, then this looks like a great, frugal alternative to the six-cylinder diesel-powered X5 30d, boasting similar performance but with economy drastically improved over that car's 45mpg figure.
Following the introduction of its ultra-efficient i3 and i8 models, BMW is rolling out plug-in hybrid tech to its more mainstream cars, starting with the X5 SUV. Using battery technology lessons learned from the development of the i cars, the BMW X5 eDrive will be introduced later in 2014, promising more than 70mpg.
Unlike the six-cylinder ActiveHybrid models launched a few years ago, the X5 eDrive will use the latest TwinPower 2.0-litre four-cylinder petrol engine running in tandem with an electric motor. Thanks to a larger battery pack, the X5 eDrive can drive up to 18 miles purely in electric mode while still being able to deliver impressive acceleration: 0-62mph should take less than seven seconds.
The additional weight of the battery unit is slightly offset by the fact it uses a four-cylinder petrol engine rather than the larger six- or eight-cylinder engines elsewhere in the X5 line-up. Nevertheless, engineers have hinted that the eDrive weighs between 250 and 300kg more than a traditional X5.
Big differences in the weight, then, but styling changes aren't set to be too drastic. There's a plug-in socket in the front wing, some subtle eDrive badges and a few new buttons in the cabin to activate functions like pure electric mode but otherwise it's a normal BMW X5.
As you take off silently a new display reveals exactly where the power is coming from and which wheels it's being delivered to. The petrol engine is in red, the electric motor is blue and you're also shown when the system is harvesting energy from deceleration. It's down to the driver how severe you want the energy recovery to be, simply by choosing different driving modes. Set to Sport, the eDrive feels genuinely fast, with both sources working together to give hot hatch-style pace.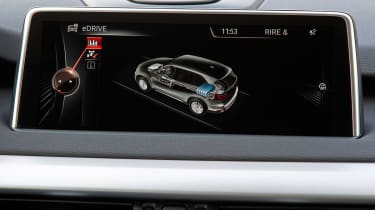 Even in full-electric mode it feels swift, with near-instantaneous response from the throttle. You'll only be able to get up to 75mph, though, before the petrol engine kicks in. It does so smoothly but you do get quite a different noise with the combustion engine running. It's not unpleasant but contrasts with the smooth silence of the electric motor.
BMW's xDrive system works to split torque between all four wheels but during our time with the car, it felt as though it had more of a rear-wheel-bias. BMW is clearly aiming to keep the eDrive's handling sharp, and we were told that weight distribution would be near-50:50. There's still some work to do on these prototypes but the early results look really promising. Off-roading may not be top of the priorities list for X5 buyers but towing could be, and we were told that the eDrive will be able to tow the same 3,500kg load as all other X5s, excluding the 25d model.
One drawback of plug-in hybrid models is generally that the batteries are fitted underneath the boot floor, eating into the amount of usable space on offer. That's true in the case of the eDrive as well but it's barely noticeable. The underfloor storage space is mostly gone, instead replaced by a shallow shelf that's just big enough to carry a charging cable.
BMW has managed to retain much of the X5's character, despite the new hi-tech powertrain. It's an impressive piece of engineering but BMW won't have the plug-in hybrid SUV market to itself – Audi is working on a version of the next-generation Q7 to rival it.