New BMW XM 50e: entry-level super SUV announced
BMW's XM will spawn a new trim level powered by a straight-six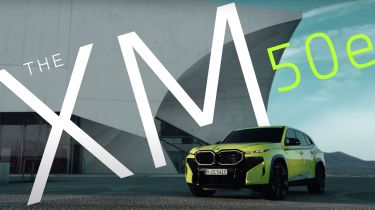 While we were busy processing the new XM Label Red, BMW snuck out another derivative of its range-topping SUV - the 50e. 
BMW only released a short teaser video on the new car to confirm its imminent arrival but we already have plenty of background information. The 50e is pitched as the entry-level model within the BMW XM range, with the standard XM above it and the new Label Red as the hottest version. 
The 50e badge suggests we could see a straight-six, twin-turbo 3.0-litre petrol unit under that big bonnet, rather than a V8 as in the other two XM models. Like the rest of the XM range there will still be plug-in hybrid power on offer - denoted by the 'e' in the badge. 
This is the same powertrain as found in the new M760e luxury saloon and we expect the same total output in the XM 50e - 571bhp and 569Nm of torque. The petrol engine accounts for 375bhp of the total output and the 22.1kWh battery allows the electric motor to put out 197bhp. With a bulky SUV body to lug around, the 50e's pure-electric range certainly won't be as high as the M760e's 53 miles.
In terms of design there's little to distinguish the XM 50e from its stablemates. There's still the imposing, bluff front end with those large kidney grilles and this model is finished in a BMW Individual yellow. 
The XM currently starts from £148,060 but the straight-six model should undercut that significantly to provide fresh competition to the Porsche Cayenne, Audi Q8 and Mercedes GLE. 
now read our review of the BMW XM...