Bristol Fighter Coupe review (2003-2011)
.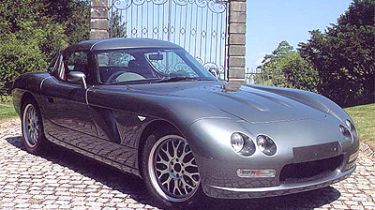 Find your Bristol Fighter
Offers from our trusted partners on this car and its predecessors...
Or are you looking to sell your car?
Advertisement
Bristol may be one of the most unique car makers in the world, valuing its privacy more highly than headline-grabbing sales or styles, but that hasn't stopped it beavering away behind closed doors. They're not keen to publicise it, but the company's newest model is also one of the most distinctive Bristols yet, and that's saying something. Essentially a two-seat coupe, aircraft engineering has given it tremendously well-resolved aerodynamics and the profile of a speeding bullet. It's good for well over 200mph, shoved along by a mammoth 8.0-litre V10 engine. Even in standard trim it produces 558bhp, for acceleration to 60mph in 4 seconds; if that isn't enough, an S variant is also available, which punches out 628bhp. However, it's not about brute power, but relaxed progress. The automatic gearbox is geared to cut revs at speed, helping the Fighter flow effortlessly along, clocking up time on the unique console-mounted, aircraft-inspired 'engine hours' dial.
Panoramic visibility was a major objective which the designers have achieved, though the use of a semi-circular windscreen and glass-clad rear. The interior is naturally of the highest quality but shorn of modern 'fripperies'; Bristol believes simple is best, leaving the driver very much in control. As it's a hand-made car, finish is unsurpassed, but that's probably only to be expected given a list price of over £200,000. Then, so the argument goes, if you have to ask... This is an utterly unique car which will appeal to a loyal band of drivers to whom money's no object. They'll love it, leaving us to respect it from afar.
Engines, performance and drive
0
MPG, CO2 and Running Costs
0
Interior, design and technology
0
Practicality, comfort and boot space
0