'The reality is customers have no idea where their cars are built'
The fact that the E-Pace will be the first Jaguar built outside the UK won't hurt sales, argues Graham Hope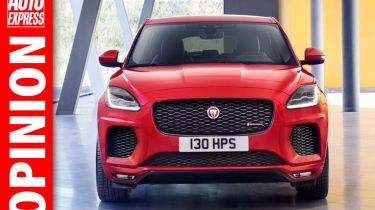 Is it important where a car is built? It's a particularly pertinent question to ask this week, when our cover star is the E-Pace – the first ever Jaguar not to be produced in the UK. It's set to be manufactured in Graz in Austria.
Also featuring in our issue is the Lynk & Co 01, an SUV that will be sold globally by Volvo's owner Geely but made in China. That would have set the alarm bells ringing for many a decade ago, but editor in chief Steve Fowler tells me he was massively impressed with the car's quality when he went for an exclusive ride around the streets of Gothenburg.
• Prices and specs for the Jaguar E-Pace
At the same time I was in Morocco at a Dacia plant that has produced a million cars in five years. Buyers in Spain, France and Germany buy Sanderos from there in their thousands, with no quibbles. I asked Dacia's commercial director François Mariotte, an experienced Renault Group man, why the company had chosen to manufacture cars there.
His response was instant. "The quality of the car is never determined by the country it's built in. It's determined by the processes we put into the factory." And yet you don't need to venture too far online to find the argument being put forward that the new E-Pace isn't a "real Jag" because it won't be built here.
Like many of you, I would prefer it if the Jag was made in the UK. Britain has proven itself to be great at producing cars, and it would mean more jobs. But as Jaguar doesn't have the capacity, it won't be. What I can't accept, though, is the suggestion it will be in any way inferior because of this. Jaguar simply won't allow it. And it won't harm sales, either.
Because as Mariotte candidly told me: "A lot of consumers have no idea where their cars are built. So it's never an issue." That's the brutal reality which will ensure we can expect more cars to come from previously unlikely locations in future.
Does it matter to you that the E-Pace is being built in Austria? Tell us your thoughts in the comments area below.