Lynk & Co reveals production-ready 01 SUV at Shanghai Motor Show
Lynk & Co, the global arm of Chinese brand Geely has used the Shanghai Motor Show to debut its 01 SUV model
Lynk & Co - the new global brand belonging to Chinese manufacturer Geely - has revealed a production-ready version of its 01 luxury compact crossover, due to go on sale in the UK in 2018.
It coincides with the launch of its 03 Concept car, a sporty saloon which should follow its sibling into production sometime after the 01 has gone on sale around the globe.
• Best electric cars to buy now
• Best electric cars to buy now
Both models will share technology with Lynk & Co's fellow Geely-owned brand Volvo, including a range of engines. There will initially be a 1.5-litre three-cylinder engine and a four-cylinder petrol, with hybrid and EV powertrains in the pipeline.
The 01 will go on sale in China later in 2017, extending to Europe and the US thereafter.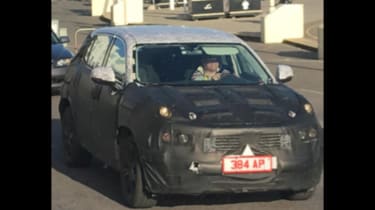 The premium SUV will spearhead the firm's entry into the global market, having been previewed in concept form last year. It was spotted by our spy photographers winter testing in 2016, and has even been sighted on UK roads ahead of its debut at the Shanghai Motor Show.
The lightweight but tech-heavy newcomer is being hailed as the most connected car ever, and is based on the Compact Model Architecture which will be used by fellow Geely brand Volvo to underpin future models, including the new V40 hatch, S40 saloon and XC40 SUV.
As will be the case with all LYNK & CO's cars, the 01 has been designed in Sweden – under the eye of Brit Peter Horbury – and engineered there, too.
LYNK & CO 01: design
With dimensions of 1,654mm (height), 4,530mm (length) and 1,855mm (width), and a wheelbases of 1,730mm the 01 is a little taller, longer and wider than the Nissan Qashqai. The front of the car is dominated by a dark, full-width grille incorporating the main headlamps, while the bonnet features two sharp perpendicular lines and full-res daytime running lights, giving it a resemblance to Porsche from some angles.
The new brand's logo, which features contrasting gloss and matt surfaces linked together - to indicate the fusion of Western and Eastern culture that LYNK & CO represents - sits centrally.
The side is marked out by two striking parallel lines and a 'shark's fin' D-pillar, along with a prominent air vent at the back of the front wing.
Inside, there's a 10.1-inch central touchscreen and telematics systems that are constantly connected to the Internet. Apple CarPlay and MirrorLink are supported, as is Android Auto in selected markets.
A shareable 'digital key' allows owners to provide access to others, while the car can be controlled by smartphone via the LYNK & CO app. The firm is working with Ericsson to create what is described as an "advanced car connectivity cloud".
Andreas Nilsson, head of design at the new company, explained: "The design brief for LYNK & CO was simple: the cars should stand out from the crowd and appeal to a truly global audience. Plus we wanted to acknowledge that our users are extremely tech-savvy – a smartphone is an integral part of their lives and our interior design reflects that."
LYNK & CO 01: hybrid and EV powertrains
Under the skin, the LYNK & CO 01 will be available with a range of efficient powertrains, with all models featuring electrification. A seven-speed DCT, developed by Geely's China Euro Vehicle Technology group, will be offered where suitable, alongside a manual gearbox.
LYNK & CO will initially have access to engines licensed from Volvo – a 1.5-litre three-cylinder engine that was showcased at Volvo's launch of CMA, plus a four-cylinder petrol. Hybrid, plug-in hybrid and pure EVs are all said to be in the pipeline.
And as you would expect of a brand so closely linked to Volvo, safety will be paramount too. The LYNK & CO 01 will feature the likes of forward collision warning, blind spot detection, lane departure warning and autonomous emergency braking, with top crash test ratings being sought in the major markets where the car will be sold: China, the US and Europe.
In terms of what the 01 is likely to offer in terms of driving experience, the brand says that it has been benchmarked against SUVs from premium brands and that the body has been designed to minimise noise, vibration and harshness in the cabin. Reassuring steering, a comfortable ride, excellent body control and good stability are also promised.
LYNK & CO's radical ideas aren't just limited to the look of the vehicle, either. Traditional trim levels, for example, will be dispensed with to be replaced by what are described as 'fixed price collections' inspired by fashion and tech. Model names will be redundant, too, with the 01 being followed by the 02, 03 and so on, and replaced with each subsequent generation. Horbury revealed to Auto Express that designs for the first five models have already been finalised.
LYNK & CO sports car concept
Visitors were also shown a stunning sports car concept. The car is unlikely to make production in the near future as, when asked where the stylish coupe fitted into the five LYNK & CO models planned, Peter Horbury's answer was: "Down about number six".
What the scissor-doored coupe does reveal is the brand's overarching design direction and we were told that it's a good indication of how the styling themes revealed on the 01 SUV will fit onto the future saloon model that is planned.
• More on the LYNK & CO sports car concept
LYNK & CO: new brand, new approach
Buying the five production models that the brand says it has in the pipeline promises to be a whole new experience, with LYNK & CO teaming up with Microsoft and Chinese e-commerce giant Alibaba to offer customers the ability to order direct online at what are termed "fixed and competitive" prices.
The company will have some stores in shopping centres and malls, too, and says it will deliver cars to buyers' homes and pick them up for servicing when required. With distribution costs typically accounting for around 25 per cent of the price of a car, LYNK & CO is confident its strategy will keep pricing competitive. Execs promise prices that will undercut Ford and Volkswagen, but with equipment to match premium brands.
The firm also envisages that as well being offered on a traditional 'ownership' model, the 01 will also be available on a car-sharing or subscription basis.
Personalisation will be taken to a new level, too, with open platform tech allowing third-party developers to tailor the car to specific requirements and offer new software.
Alain Visser, senior vice president of LYNK & CO, summed up the project by highlighting how much of a revolution he hopes the brand will cause. "Our aim to is to enrich and simplify car ownership by redefining how they are bought, owned, connected, serviced and used," he said.
The LYNK & CO 01 will arrive in Britain in late 2018 - with prices that are expected to undercut similar-sized models from Ford and Volkswagen - but Chinese sales are promised in 2017. Geely has ambitious plans for the brand and is aiming for 500,000 sales per year within the next five years.
What do you think of the LYNK & CO 01? Let us know in the comments...