BMW HQ raided in diesel emissions cheating probe
BMW says emissions software was "mistakenly allocated" to 11,400 cars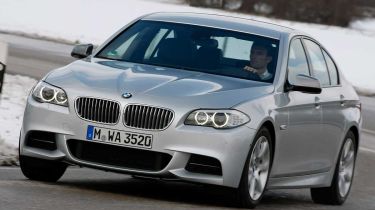 German prosecutors have raided BMW's headquarter's in Munich as part of a probe into possible diesel emissions cheating software in BMW cars.
Around a 100 investigators searched the German car giant's Munich offices as well as another site in Austria. Prosecutors say they have reason to believe that 11,400 diesel models may be fitted with "inadmissible defeat devices" to pass laboratory tests. The cars in question are said to be the 750d luxury limousine and the M550d saloon.
BMW confirmed the raid, and said the software had been "mistakenly allocated" to the 11,400 vehicles and is now planning a recall. A BMW Group statement read: "The BMW Group realized that a correctly developed software module had been allocated in error to models for which it was not suited. Therefore the BMW Group plans to recall 11,400 vehicles, for which corrected software will be made available as soon as it has been approved by the relevant authorities."
The company added: "Many of the affected vehicles were initially sold with the correct software and ran correctly for over two years. The incorrect software was employed a significant time after these models originally started production."
• Volkswagen diesel emissions scandal: everything you need to know
However, this isn't the first time BMW has faced an inquiry from public prosecutors. Last October, the company's Munich headquarters were also raided by officials from the European Commission's antitrust arm over allegations that the carmaker colluded with rivals from VW Group and Mercedes-Benz over vehicle emissions.
The raid took place on 16 October, according to the Commission, with BMW confirming it is "assisting the European Commision in its work." The Munich-based carmaker pointed out that "the European Commission has not opened formal proceedings against the BMW Group."
Earlier last year the German newspaper Der Spiegel said BMW, Daimler, Volkswagen, Porsche and Audi met to discuss AdBlue tanks, which deliver the urea that purifies diesel emissions in many diesel cars. The report alleged that the companies decided to avoid expensive larger tanks and instead fit smaller ones that aren't able to clean exhaust gases sufficiently.
In a statement issued earlier last July, BMW said: "BMW vehicles are not manipulated and comply with respective legal requirements", adding, "The BMW Group categorically rejects accusations that Euro 6 vehicles sold by the company do not provide adequate exhaust gas treatment due to AdBlue tanks that are too small."
The report said that collusion had been happening since the 1990s and involved over 200 employees in 60 working groups.
The firm says that its Euro 6 cars employ a NOx-storage catalytic converter alongside AdBlue injection, which means that it can reduce emissions using less AdBlue. Thus, the size of the AdBlue tank is dictated by requirements, and not by an agreement between manufacturers.
What do you think of the ongoing emissions scandal? Let us know below...