Honda will offer full-EV or hybrid tech on every European model by 2025
Honda responds to the push towards electrification in Europe by committing to offer the tech on every new model line it launches.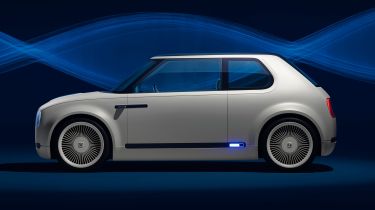 The new Honda Urban EV city car revealed at the Frankfurt International Motor Show heralds a wave of electrification that will affect every new model the Japanese car maker launches in Europe.
Speaking at the Frankfurt event where both the Urban EV and a new hybrid powered CR-V prototype were revealed, Honda Motor Company President and CEO Takahiro Hachigo pledged that hybrid or EV technology will feature in every new model range the firm introduces going forward.
• Frankfurt Motor Show 2017: latest news
While Honda aspires to include electric technology on two thirds of vehicles sold globally by 2030, Hachigo's comments reveal the firm wants to meet that same target in Europe five years earlier – by 2025.
"Here in Europe, we see this move towards electrification gathering pace at an even higher rate than elsewhere," Hachigo told a Frankfurt press conference, adding that Europe was particularly appropriate for the global premiere of the next step towards Honda's 'Electric Vision' strategy, namely the hybrid CR-V which goes on sale in production form in 2018.
Honda's decision to go public on its electric ambitions is hardly ground-breaking. Volvo grabbed the headlines earlier this summer when it was first amongst the established car makers to claim all of its models would have an electric or hybrid option by 2019. Volkswagen and Mercedes have since followed suit, and VW's aspiration is to offer electric options across the board by 2030. All manufacturers are ramping up their commitment to electric options, of course, and with moves to ban sales of diesel and petrol new cars already on the horizon in countries such as the UK, France and China, the trend seems likely to accelerate.
Meanwhile, in the face of falling diesel sales across Europe, Honda also chose Frankfurt to launch the new Civic diesel which will be built at Swindon. The 1.6 i-DTEC is one of the first engines to face Europe's updated Real Driving Emissions tests instigated following the VW diesel scandal, but it still manages to achieve CO2 emissions as low as 99g/km in its most efficient guise.
What do you think of Honda's plan? Join the debate in the comments...