'Think of your dash cam as a witness helping your cause'
We should embrace dash cams to help protect law-abiding drivers, argues Mike Rutherford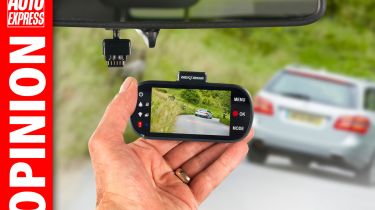 Never thought it'd come to this, but I reckon it's time every motorist carefully contemplates installing an equaliser (aka a dash cam or other audio visual device) inside the car looking at other drivers.
I'm not talking about new and unnecessary Government legislation forcing us to do this. Instead, I suggest we celebrate the advanced and affordable evidence-gathering tech available to us. For the good guys – that's the overwhelming majority of us – we have little to worry about as such cameras can and do help protect us and our vehicles (criminals loathe cameras).
Also, we should remember that if dash, head or body cams are right for growing numbers of public transport vehicle drivers plus riders of two-wheeled machines, then they're equally appropriate for motor car occupants, truckers, van drivers, cabbies, and all of us on the roads (or in car parks where many minor incidents occur).
Let's have a level playing field by reminding ourselves that if other road users wish to point their lenses at car drivers, we can return the compliment. What could be fairer and more democratic? Yup, I'm calling for a 'cams-for-all' on our roads. The legal/justice system would be enhanced, as the accused might have more levels of video footage evidence than their accuser. Still not convinced? Then think of your equalising dash cam more as a legally recognised, independent witness capable of helping your cause, rather than an evil spying device out to harm it.
Camera tech has thus far been used mainly as a weapon to attack and prosecute us. So let's equalise matters by using it as an effective form of defence, too. It's a perversion of the course of justice that motorists tend to be 'guilty until proven innocent' these days. This injustice will not change unless and until we offer video evidence that more effectively illustrates and proves our side of the story.  
If a citizen commits a dangerous illegal act on a pavement or any other public place, it's wholly acceptable that footage is used to identify the suspect and deal with them via the proper police processes. The same goes for suspects in or near trains, railway stations and airports. So why should riders or drivers sat upon or inside non-motorised or motorised two or four-wheeled vehicles be the exception to the rule? As a regular rider, car user and commercial vehicle driver, I say we shouldn't.
Do you agree or disagree with Mike's view? Tell us what you think below!