Government loses up to £107million as 755,000 vehicles go untaxed
Rate of Vehicle Excise Duty evasion trebles from 0.6 per cent in 2013 to 1.8 per cent in 2017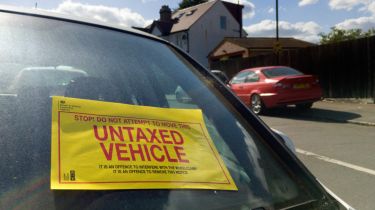 The Government is losing up to £107million a year due to the number of cars whose drivers have failed to pay Vehicle Excise Duty (VED), commonly referred to road tax.
The Department for Transport (DfT) says there are an estimated 755,000 unlicensed cars in the UK, with figures showing rates of road tax evasion have trebled from 0.6 per cent in 2013 to 1.8 per cent today.
• 2017 car tax changes explained
Such levels of evasion translate into potential losses for the Treasury of up to £107million a year. The DfT stresses this figure is an "upper estimate" and says "some" lost revenue may have been recovered; it also highlights 12 per cent of untaxed vehicles are being driven despite being declared off the road via a SORN application – up from one per cent in 2015.
The DfT admits, however, that the increase in untaxed vehicles "could be due to the effect of major changes to the licensing system which took place in October 2014". That date marked the demise of the paper tax disc, and also saw an end to the practice of drivers and dealers being able to transfer road tax from one owner to another.
The DfT's figures also highlight that 51 per cent of all unlicensed cars are over 10 years old, while 5.8 per cent of motorbikes are untaxed.
Responding to the figures, the AA's Jack Cousens called the increase "concerning", and said because 51% of vehicles evading VED were more than 10 years old, "the Government [should] admit that part of the problem may be due to the changes in how VED is no longer transferred on used car sales."
These latest figures follow previous statistics revealing the number of drivers being clamped for not paying road tax has nearly doubled since tax discs were abolished in October 2014.
More than 118,000 motorists had their vehicles clamped by the authorities in 2016 for failing to pay Vehicle Excise Duty, the Driver and Vehicle Licensing Agency revealed. This is an increase from 84,660 in 2015 and up from 60,000 in 2014, representing a near-twofold rise in clampings.
Best-selling vehicles such as the Ford Focus and Vauxhall Astra were clamped or impounded most often by the authorities, with 5,000 drivers of each model breaking the law. It costs £100 to release a vehicle on the day it is clamped, rising to £200 thereafter.
In October 2014, the DVLA removed the need for the physical tax disc in order to save on paper. Vehicles can now be fully taxed online, and despite the rise in untaxed vehicles, the DVLA insists only a minority of drivers forget or choose not to tax their cars.
Bethan Beasley, DVLA's national wheelclamping manager, said: "Our enforcement teams are out and about on the roads around the UK all year. Their vans are equipped with number plate recognition cameras, so any vehicle that isn't taxed is at risk of being clamped or impounded."
Do you think the move to paperless road tax was a good one? Let us know in the comments below.