44 UK towns and cities breaching air pollution limits
New research finds Glasgow, London, Leeds, Southampton and 40 other urban areas have hazardous pollution levels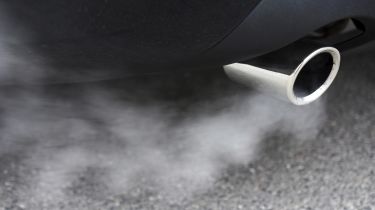 A new study has found 44 UK towns and cities have dangerous levels of air pollution.
The findings, discovered by researchers from the Royal College of Physicians, indicate levels of 'PM2.5' – microscopic particles suspended in the atmosphere – are over and above recommended levels in several urban areas. 
• Euro 6 emissions - what do they mean for you?
The World Health Organisation says PM2.5 levels shouldn't exceed 10 micrograms per cubic metre of air, but average concentrations of these particles in Glasgow and Scunthorpe were 16 micrograms per cubic metre in 2016, while mean levels in London, Leeds, Southampton and Salford were recorded at 15 micrograms per cubic metre over the same period.
Of the 51 UK towns and cities in the World Health Organisation's ambient air pollution database, 44 breached recommended limits in 2016, with residents in Leeds, Bristol, Eastbourne, Birmingham and Manchester among those affected. People living in Bournemouth, Sunderland, Aberdeen and Reading, meanwhile, will be reassured to learn their home towns met or undercut recommended PM2.5 levels.
PM2.5 particles are defined as solid or liquid particles under 2.5 microns in diameter that are suspended in the atmosphere. These particles are produced by any number of sources, but research indicates road transport is responsible for a significant proportion of kerbside PM2.5 levels. Excess concentrations of these particles is associated with a number of health conditions, including cardiovascular illness and respiratory ailments such as asthma.
The report's authors said initiatives that aim to tackle urban pollution – such as the recently-introduced T-Charge in London  - were "much needed", but Dr Toby Hillman, one of the researchers behind the study, cautioned: "we know the effects of poor air quality run from cradle to grave; it's a lifetime threat to human health." 
WHO's UK ambient air pollution list
Town/city
Mean 2016 PM2.5 levels (μg/m3)

 

 

Glasgow
16
Scunthorpe
16
Eastbourne
15
Leeds
15
London
15
Salford
15
Southampton
15
Armagh
14
Birmingham
14
Cardiff
14
Chepstow
14
Gibraltar
14
Oxford
14
Port Talbot
14
Portsmouth
14
Stanford-le-Hope
14
Stoke-on-Trent
14
Thurrock
14
Warrington
14
Bristol
13
Leamington Spa
13
Manchester
13
Newport
13
Norwich
13
Wigan
13
Belfast
12
Carlisle
12
Hull
12
Liverpool
12
Nottingham
12
Plymouth
12
Prestonpans
12
Swansea
12
York
12
Birkenhead
11
Brighton
11
Londonderry
11
Middlesbrough
11
Saltash
11
Southend-on-Sea
11
Chesterfield
10
Newcastle upon Tyne
10
Reading
10
Stockton-on-Tees
10
Wrexham
10
Aberdeen
9
Bournemouth
9
Grangemouth
9
Sunderland
9
Edinburgh
8
Inverness
6
Is your town or city on the list? What should be done to reduce air pollution? Join the debate in the comments area below...