London T-charge pollution zone has arrived and will grow in 2019
The £10 London T-charge works in tandem with the congestion charge, and affects diesel and petrol cars with pre-Euro 4 engines
Drivers will be able to check the real world emissions of their cars using a new online tool launched by the Mayor of London, Sadiq Khan, following the introduction of the new £10 T-charge in London.
The online checker shows independent nitrogen oxide (NOx) ratings of nearly all new Euro 6 standard cars and most vans on sale in the UK, and the Mayor hopes it will help drivers choose the cleanest models when buying their next vehicle.
• Diesel ban? New toxins tax planned in 35 cities
Due to the new charge, motorists who drive the highest polluting cars in London will have to pay £21.50 per day to use the capital's roads. The plans were announced earlier this year by the Mayor of London as part of his plans to improve air quality in central London.
The toxicity charge, also know as the T-charge, targets pre-Euro 4 emission standard diesel and petrol engines – this typically means cars registered prior to 2005.
The new charge is being enforced in attempt to clean up London's air by being imposed during the same 7am to 6pm Monday to Friday time frame as the congestion charge. On top of this, the T-charge enforcement area is identical to that of the congestion charge. This is estimated to affect 6,500 motorists a day who drive into central London, down from an earlier estimate of 10,000.
Furthermore, Sadiq Khan also confirmed that London's Ultra Low Emissions Zone (ULEZ) will come into force in the same area on 8 April 2019, targeting pre Euro 4 petrol cars and pre Euro 6 diesels.
Then, from 25 October 2021, the ULEZ will extend to cover all areas of London within the North and South Circular Roads which would replace the T-charge in the future.
The move to a ULEZ will mean drivers of pre-Euro 6 diesel and pre-Euro 4 petrol cars paying a fee to drive in affected areas London – irrespective of time and day. This fee, when added to the normal congestion charge, will mean drivers could face a daily charge of £24.
It isn't just cars, the mayor is also targeting coaches, buses, and HGV's with a £100 per day fee to drive in the T-charge zone and estimates the plans will cut the capital's nitrogen oxide (NOx) levels by 50 per cent by 2020.
When the plans were confirmed earlier in the year, Khan said: "The air in London is lethal and I will not stand by and do nothing. Today I'm announcing bold proposals which are critically needed to safeguard Londoners from our air quality health crisis.
"I am introducing a new T-Charge this October and subject to consultation, I want to introduce the Ultra Low Emission Zone in central London in April 2019. This alone will mean the capital has the toughest emission standard of any world city.
"But the scale of our air quality challenge is so big that I need to go further. I want to expand the ULEZ from 2020 for heavy vehicles such as buses, coaches and lorries so that all of London will benefit from cleaner air."
Feasibility study planned for a diesel scrappage scheme
The Ultra Low Emissions Zone scheduled for next year is only one of the new Mayor's planned measures to control pollution on London's roads. He is also instructing Transport for London to look at the costs and implications of a scrappage scheme for the most polluting diesel vehicles, but stresses that any such measure would have to be introduced nationwide by the Government in Westminster.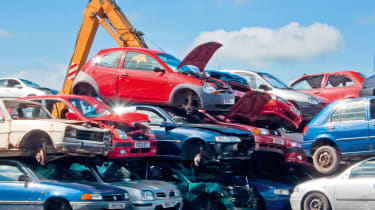 In response to the announcements by Sadiq Khan, the AA's head of road policy Paul Walters advised the Mayor not to jump to introduce a new charge on London motorists in 2017 rather than allowing people time to plan for the scheduled introduction of the ULEZ in 2020. He explained that the introducing the T-Charge over an extended area of the capital "will be a much bigger issue for many more London road users than if it had just been in a central area".
Do you think the London T-Charge is a good idea? Will it be rolled out across other UK cities in the near future? Let us know in the comments section…