Euro NCAP to create new safety standards for autonomous cars
Basic, Advanced and Superior Euro NCAP ratings to be rolled out next year for self-driving cars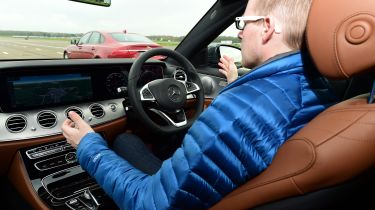 Autonomous cars will be assessed according to new safety criteria from mid-2018, Euro NCAP and Thatcham Research have announced.
The new ratings – titled Basic, Advanced and Superior – will be given to cars with self-driving tech in addition to the current five-star safety assessment by which new models are currently judged in Europe. They're likely to become part of the Euro NCAP 2025 'road map', which aims to reward cars with fitted advanced driver assistance systems such as autonomous emergency braking.
• The ultimate guide to self-driving cars
Thatcham's Mathew Avery told Auto Express that while full details of the new grades are still being ironed out, they would judge the "assistance, support and comfort" provided by features such as lane-keeping assistance and adaptive cruise control.
"We'll start by assessing assisted driving systems rather than automated driving systems", Avery explained, saying that Euro NCAP and Thatcham want to put "clear blue water" between fully automated systems and driver assistance tech.
The new Basic rating is likely to be given to features that are currently judged effective by Euro NCAP's recently-updated assessment programme, with the Advanced award being given to cars exceeding those; a Superior grade would likely be reserved for models with cutting-edge assistance features.
• Fully autonomous cars to be on UK roads by 2021
Two systems likely to come under the new remit include adaptive cruise control and lane keeping assistance. Avery said once details of the new programme are confirmed, a 'Basic' lane keeping system could keep the car in a single lane, for example, while an 'Advanced' one might change lanes for the driver when the they indicate left or right.
Under the proposed changes, a new car would still be given a star rating out of five, with a supplementary Basic, Advanced or Superior judgement as well. Avery said while a five-star car would likely be able to achieve any one of the three new criteria, Euro NCAP and Thatcham hadn't decided if a four-star car would be eligible to be assessed under the new rules.
Are the new Euro NCAP grades for autonomous cars a good idea? Let us know below...