Euro NCAP crash test roadmap to reward autonomous technology
Automated Emergency Steering and Driver Speed Monitoring to be targeted by Euro NCAP as tests evolve to embrace self-driving features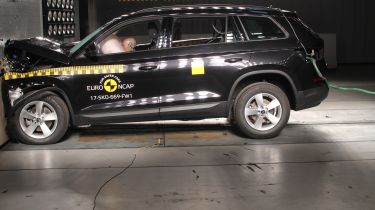 Plans to reward automated emergency steering technology and driver behaviour monitoring in future Euro NCAP safety tests are at the heart of new measures the safety organisation is rolling out in its new 2025 'road map'.
Euro NCAP celebrates its 20th anniversary this year and the organisation says constantly evolving test protocols have played a key part in saving an estimated 76,000 lives as manufacturers respond to customer demands for the best safety technology.
The new Euro NCAP roadmap sets out strategic goals for 2020 to 2025. For the first time testers will be looking at the safety benefits of Autonomous Emergency Steering (AES) technologies that can take control to steer your vehicle around an impending accident. The basic hardware components are already fitted to many cars with self-parking technology, and Euro NCAP experts think AES will be a significant step towards the fully autonomous – or self-driving – cars of the future. The provision of Autonomous Emergency Braking (AEB) is already rewarded by Euro NCAP in its current test regime, but the roadmap also includes plans to develop more informative 'scenario-based' AEB tests to allow consumers to make better decisions about which systems work best in a broader range of conditions.
• Frankfurt Motor Show 2017: latest news
Driver monitoring is also coming under scrutiny from the Euro NCAP testers, who cite 'violations' such as drivers speeding or driving under the influence of drugs or alcohol, and 'human errors' caused by inattentiveness, fatigue and distraction as the most significant factors in more than 90 per cent of accidents. According to the strategy roadmap, the future test regime will encourage systems that take effective action to override these situations. According to the roadmap, this could include systems that initiate evasive manoeuvres, enforced limp home mode, increased sensitivity/intervention of stability control, and even technology that doesn't allow drivers to exceed official speed limits.
"The potential safety benefits of automated driving are huge. If we can eliminate human error, we should see road casualty numbers tumbling and many lives being saved. But there is a lot of misunderstanding, over-expectation and perhaps some suspicion, of a world in which cars can drive themselves," says Euro NCAP's Secretary General Michiel van Ratingen. "Our role will be to provide clear information to consumers about the degree of automation in a car and how safely that automation has been implemented. Quite a challenge, but essential if Euro NCAP is to continue pressing for improvements from those who make cars and providing meaningful information to those who buy them."
Other technologies to come under the Euro NCAP safety spotlight in coming years include V2x, which is industry jargon for vehicle-to-vehicle information sharing. An example of this is when the car in front might warn vehicles behind of emergency brake lights ahead – before sensors on the following cars have time (or line of sight) to pick up the information for themselves.
Euro NCAP is also intent on adding cyclist safety to its existing pedestrian safety impact tests, and is also planning to reward manufacturers who offer Child Presence Detection systems that alert owners of dangerous situations when children are left in cars. Shockingly, 100 kids a year succumb to fatal heatstroke every year after being 'forgotten' in cars by their parents, the organisation claims.
Are you pleased to see Euro NCAP pushing for more autonomous driving tech in new cars? Join the debate in the comments...