Diesel owners could save £380 a year by sticking with their cars
Switching to petrol from diesel could cost motorists an extra £1,140 in fuel over three years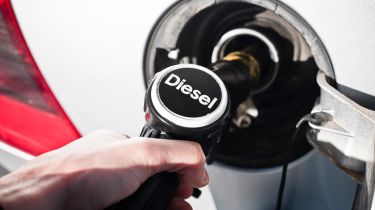 Motorists are being urged not to swap their diesel cars for petrol models, with experts saying drivers could be better off to the tune of £380 a year if they stick with diesel.
The latest new car sales figures revealed consumers have been put off from buying diesel cars of late, with 29.9 per cent fewer diesels sold in October compared to the same month last year.
• UK car sales fall again as diesels are hit hard
Such market hesitancy shouldn't cause motorists who already own a diesel to sell their cars and switch to petrol though, warn vehicle data specialists cap hpi. They point out drivers covering 10,000 miles a year will spend around £380 a year extra on fuel if they swap their diesel car for a petrol vehicle.
cap hpi says that while "research is calling into question diesel's environmental benefits" resulting in "a widespread re-evaluation of attitudes" towards the fuel, drivers should "make informed choices based on their needs" lest they end up "paying the price at the pumps."
The analysis considers a driver covering 10,000 miles a year faced with choosing either a 1.2-litre petrol Nissan Qashqai or the same model with a 1.5-litre diesel engine. Even after the price premium that new diesel cars command over their petrol counterparts is taken into account, cap hpi estimates such an individual would spend around £380 a year more on fuel if they chose the petrol model.
Residual values for diesel cars are, cap hpi says, "starting to soften", but the market for used diesels remains "strong", and there has "not been the catastrophic decline predicted by some observers." cap hpi's latest Black Book data reveals, for example, that the depreciation rate of a six-month-old diesel car with 5,000 miles has "remained steady".
How much do you save per year in your diesel car? Tell us about your experience in the comments area below...