Government to target particulate pollution from brakes and tyres
Clean Air Strategy to develop new standards for tyres and brakes to help prevent "national health crisis"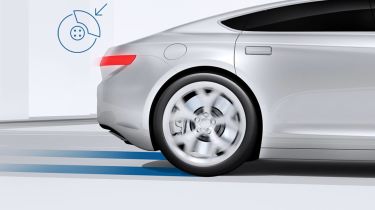 Pollution caused by tyre wear and brake dust is to be tackled by a new Government Clean Air Strategy.
With plans already in place to tackle air pollution from exhaust emissions, the Government's next focus will be particulate matter with a diameter of less than 2.5 micrometres (PM2.5) emitted by tyres and brakes as they wear.
• All-season tyre test 2017/2018
Owing to their small size - roughly 5 per cent the thickness of a human hair - PM2.5 emissions are capable of bypassing human noses and throats, penetrating deep into the lungs. Their presence has been linked to a number of health conditions, including respiratory illnesses.
Experts estimate that by 2030, as the transport sector moves into electric vehicles, 90 per cent of harmful PM2.5 emissions will be caused by microscopic particles eroding from tyres and brakes as they age.
The new Clean Air Strategy from the Department of Health, Public Health England and the Department for Environment, Food and Rural Affairs (Defra) sets out Government intentions to "research and develop new standards for tyres and brakes to enable us to address toxic non-exhaust emissions of micro plastics from vehicles which can pollute air and water."
Automotive parts giant Bosch recently launched a new iDisc brake disc that, thanks to a tungsten-carbide coating, emits 90 per cent less brake dust than a conventional cast iron disc. While the iDisc is currently three times more expensive than a standard brake disc, costs are predicted to fall as production volumes increase.
Auto Express highlighted the issue of tyre and brake pollution back in November 2017. At the time, Greg Archer, clean vehicles director at campaign group Transport & Environment, told us: "It's entirely true that as one source of emissions comes under control, other sources will become more important to authorities." Archer added that while emissions from brakes will decrease as EVs adopt regenerative braking, this may not be enough.
The European Tyre & Rubber Manufacturers' Association argued, however, that research indicates tyres "do not significantly contribute to the PM10 and PM2.5 levels".
• Government called on to introduce emissions standards checker
A 2012 report from Defra estimates around 18 per cent of PM2.5 emissions come from vehicle exhausts, while 11 per cent are from tyre and brake wear – though the report highlights figures for tyre and brake-derived PM2.5 levels are "highly uncertain".
Celine Cluzel, associate director at environmental and policy consultancy Element Energy, said: "Once 90 per cent of the dangerous emissions left will be from tyre and brake wear, it would seem logical that tyre materials and wear processes get investigated." She added: "Regulation on tyres would not be the remit of cities, though, but rather for the central Government and the European Commission to set the bar."
Should more be done to combat emissions from tyres and brakes? Let us know below...