Government called on to introduce emissions standards checker
Motorists could face future penalties for driving pre-Euro 6 cars, but RAC highlights lack of public record for emissions standards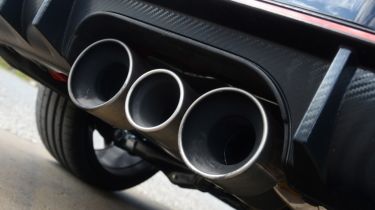 The Government is being called on to introduce an easily accessible method for motorists to find out their cars' emissions standards, as cities across the UK consult on clean air zones that could penalise drivers of older cars.
The introduction of the London T-Charge in October set a precedent for charging motorists based on their cars' emissions standards, with owners of pre-Euro 4 models now forced to pay an extra £10 on top of the Congestion Charge to drive into parts of central London during certain times. Cities including Leeds and Birmingham are consulting on similar schemes and have committed to introduce Clean Air Zones by 2020.
The RAC says the Driver and Vehicle Licencing Agency (DVLA) already has "detailed" records of all cars' CO2 emission levels and engine sizes, which are intrinsically linked to Euro standards, but no publically available Government tool exists for determining a car's Euro level. The DVLA should, the RAC says, therefore "urgently develop" a website that allows all UK drivers to find out under which Euro standard their cars are categorised.
Such a tool would allow motorists to easily find out if their cars meet or breach any potential future clean air zones, allowing them to decide if they should take action to avoid possible penalties.
Currently, drivers who want to find out "detailed vehicle emissions information" from Government sources can use the Vehicle Certification Agency's (VCA) 'car fuel data' website. But this tool doesn't accept registration numbers, while the Transport for London (TfL) T-Charge checker only informs drivers whether they must pay the T-Charge, not which Euro standard their car meets.
RAC company spokesman Rod Dennis called the situation "unacceptable", and urged the Government it was in its "best interests" to make accessing emissions information as straightforward as possible.
And while details surrounding potential future clean air zones are still being ironed out, the RAC believes "it is likely that where charges are introduced by local authorities, vehicles meeting Euro 4 petrol and Euro 6 diesel emission standards will be exempt, at least initially" – putting even more onus on motorists to know their cars' Euro standard.
With such matters in mind, cap hpi recently launced an online checker which does accept registration plates, informing motorists which Euro standard their cars meet.
• Euro 6 emissions standards: what do they mean for you?
That should help alleviate some of the ignorance surrounding Euro emission standards: a poll of 2,000 motorists carried out by the RAC found 64 per cent of respondents unsure which Euro standards their cars met, and 38 per cent not having heard of the standards at all.
Such a lack of awareness, together with emissions-based charging, makes it all the more important for motorists to be able to easily find out which Euro standard car meet from official Government sources, the RAC said. Dennis explained further: "As councils across the UK develop plans to tackle harmful emissions on a local level, we expect millions of drivers will want to find out the Euro emissions category of their vehicle."
• Most economical cars on sale
Knowing which emissions standard a car meets can't be determined by age alone, either, as Euro standards typically have a 'soft' introduction, meaning manufacturers are given a grace period in which new cars meeting the outgoing standard are not allowed to be built, but can be sold.
Responding to the RAC's analysis, Martin Tett from the Local Government Association (LGA) said: " [It is] essential that government and manufacturers work together to make sure that vehicle emission standards are clear, up front, and reflect the actual emissions released."
Do you think it should be easier to find out your car's emissions? Let us know below...