RAESR Tachyon Speed electric hypercar launched with 1,250bhp
California-based startup RAESR has unveiled its all-new Tachyon Speed hypercar, capable of a claimed 240mph top speed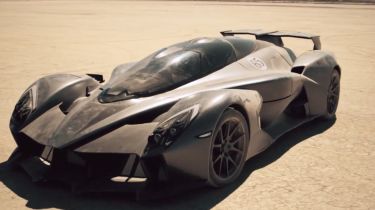 A Californian startup called RAESR (Rice Advanced Engineering Systems and Research) has unveiled an all-electric hypercar called the Tachyon Speed. Its electric powertrain packs 1,250bhp and 4,949Nm of torque.
Named after the theoretical particle that moves faster than light, the Tachyon Speed has a claimed top speed exceeding 240mph and has a 0-60mph figure of three seconds. Power comes from six direct-drive electric motors, which develop 1,250bhp and 4,949 Nm torque.
In city driving conditions RAESR also claims the Tachyon Speed can cover around 150 miles; the startup is taking limited reservations from potential buyers.
The Tachyon Speed's cockpit is designed in the style of a fighter jet canopy, with the driving position in the centre of the car. With a design similar to the F1-inspired Caparo T1, the Tachyon Speed features unique aerodynamic systems, with four non-adjustable front wings and an adjustable rear wing that can provide over 454kg of downforce in high downforce mode. The bodywork is made from carbon fibre with the interior tub made of Kevlar, resulting in a dry weight of 1,338kg.
RAESR (pronounced 'racer') began designing the Tachyon Speed in 2012 with a mission of engineering the 'next generation electric hypercar into reality.'
Have you ever seen a car with such a high torque figure? Let us know what you think about the RAESR Tachyon Speed hypercar in the comments below...