PSA Peugeot Citroen unveils next step in Push to Pass plan
Groupe PSA is expanding the scope of its Push to Pass plan, focusing on car sharing and a new online ordering system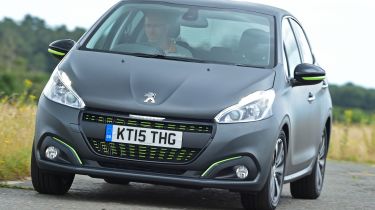 PSA, the company that owns Peugeot, Citroen and DS, as well as the recently acquired Vauxhall and Opel brands, has spelled out a dramatic vision of how we will run cars in the future.
The plan, unveiled at an event in Paris, represents the next step in the firm's Push to Pass programme, with PSA claiming the ideas will facilitate access to mobility through "affordable, useful, simple and connected solutions".
• PSA plans new model blitz for Peugeot, Citroen and DS
The company highlighted a massive increase in car sharing, a sharp rise in online purchases and sales and a spike in 'digital' servicing as it showcased the strategies it is working on to cope with a rapidly shifting landscape. It also introduced a host of new partners as part of its expanding mobility operation.
Free2Move app-based mobility
Central to its plans will be the Free2Move mobility brand (and its associated app), which will allow user to "choose the most appropriate mode of transport in a single click."
The app, which already has over 450,000 users, includes options to rent a bicycle, scooter car or van from a "consumer, a partner-operated service, or the [PSA] Group". It also allows fleet managers to obtain customised solutions and real-time cost analysis, while aiming to "simplify employee travel."
• Workers will get chance to make Vauxhall/Opel revival plan work: PSA boss
The PSA plan is well timed following a report by analyst IHS Markit, which predicts global vehicle sales are set to drop markedly over the next two decades. It suggests that by 2040 only 54 million vehicles will be sold each year in Europe, the US, China and India – as opposed to 80 million presently – as urbanisation and digitalisation see consumers embrace on-demand vehicle services.
Online car sales
There is also an online dealership proposition, via which you can configure and finance your new car, as well as agree a fair trade-in value for your existing vehicle. When complete, you can arrange a date and dealer to take delivery of your new Peugeot, Citroen or DS model.
A recent Google Auto study showed that more than one in two French people (51 per cent) and more than one in three Europeans (37 per cent) are ready to buy their car online.
Platforms to buy and sell used vehicles, via partner carventura.com, and order replacement parts or get quotes for repairs, via autobutler.com, were also introduced.
• PSA completes £1.9bn Vauxhall-Opel takeover
Speaking at the Mobility Talks, Carlos Tavares, Chairman of Groupe PSA's Managing Board said: "PSA aims to become its customers' preferred mobility provider. As part of the Push to Pass strategic plan, we deliver different services to our customers to facilitate their freedom of movement, day in, day out.
"It's not all about owning a car; it's about ensuring young people have access to mobility." "Freedom of movement is a fundamental right of democracy."
The news comes in the wake of a report by Frost and Sullivan that indicates the number of people using car sharing services worldwide is set to increase from eight million in 2015 to around 36 million in 2025.
Connected car tech
Finally, PSA will use digital technology to engage the car in the Internet of Things (IoT), by teaming up with information and communication giants Huawei. The new Connected Vehicle Modular Platofrm (CVMP) will ensure all digital interactions between car and cloud and "managed securely", while at the same time guaranteeing data integrity, authenticity and confidentiality.
CVMP will enable things like remote on-demand diagnostic checks, as well as remote battery management and over the air updates. It will also allow owners to pre-heat or pre-cool their car according to preference or changing weather conditions. The first examples of this will appear in Europe and China in 2018, with further services arriving later.
What do you make of PSA's plans? Tell us what you think below!