Police use 'supercab' lorries to catch dangerous drivers
Fleet of unmarked, derestricted HGVs fitted with wide-angle cameras will patrol motorways and major roads to catch offenders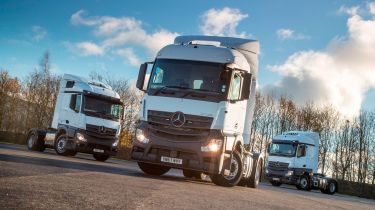 Police lorries will soon be patrolling motorways and major trunk roads, after Highways England announced it is to fund a fleet of three HGV 'supercabs'.
The unmarked lorries are fitted with wide-angle cameras to catch offenders, and can film them simply by pulling up alongside. Once caught, police travelling behind in conventional patrol cars are alerted, and pull over those committing an offence.
• Drivers going even 1mph over the speed limit should be punished
The announcement follows a series of successful trials, which saw 28 police forces use one supercab to catch over 4,000 drivers in two years. Almost two thirds of these drivers were caught using a mobile phone when driving, including one motorists who was caught having sent 10 texts within an hour. Another driver was observed steering with his knees while eating his lunch.
Highways England's head of road safety, Richard Leonard, said: "Highways England has been funding a single cab for the past couple of years and we've been impressed with the impact it's had on improving safety. Over 4,000 dangerous drivers have been pulled over, with police action ranging from verbal warnings to prosecutions.
• Top tips on UK speeding tickets and how to appeal them
"We've found that the vast majority of drivers are sensible behind the wheel but a few have got into bad habits, or are simply ignoring the law and putting themselves and others at risk.
"We've therefore decided to fund two extra unmarked HGV cabs to continue to target dangerous driving on England's motorways and major A roads, improving safety for everyone."
Take a look at the best (and worst) police cars in the world right here...