Number of abandoned cars doubles in five years
Councils in England and Wales removed an average of 34 abandoned cars per day in 2017/18, costing more than half a million pounds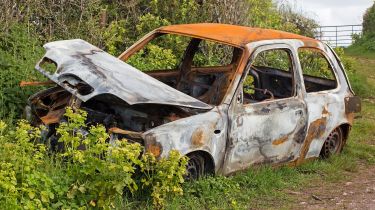 The number of vehicles abandoned in England and Wales has increased 228 per cent in the space of five years, new data shows.
In 2017/18, councils removed 12,442 abandoned cars, more than a two-fold increase compared with the 2013/14 financial year. Of the 12,442 abandoned cars that were removed, 8,886 had to be destroyed, bringing the total cost to £527,380.
• Vehicle breaks in surge, with sat nav and phone thefts blamed
Councils fined drivers to the tune of £55,071 over the same period for abandoning their cars. While this is enough to cover a small amount of the removal costs, the vast majority of the bills end up being footed by local taxpayers, with councils clearing an average of 34 abandoned cars each day, and more than one every hour last year.
The data, obtained by Confused.com via freedom of information requests, shows that councils in England and Wales received 148,777 reports of abandoned cars in 2017/18. The South East was the region with the highest number of abandoned vehicles – councils there received 35,298 reports and carried out 3,055 removals, costing a total of £102,827.
The North East, however, was the region with the biggest increase in the number of abandoned cars over the period – rising 531 per cent to 202 in five years.
The single local authority that removed the most abandoned vehicles was Luton, which dealt with 363 cars that had been left.
Amanda Stretton, motoring editor at Confused.com, blamed the rise in the number of abandoned vehicles on the heightened cost of car ownership, including higher insurance and fuel prices.
She said it was "worrying" that some drivers thought abandoning their cars was the only option and urged motorists to report abandoned vehicles to their local authority.
Have you ever considered abandoning your car? Let us know your thoughts in the comments below...