'Following Sergio Marchionne will be a tough task'
FCA boss Sergio Marchionne is stepping down next year, and editor Graham Hope thinks his replacement will have plenty of issues to address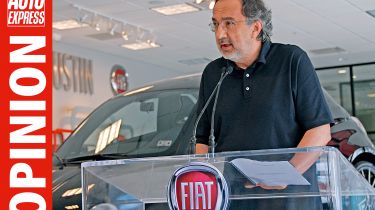 Of all the motor industry executives I have spoken to over the years, Fiat Chrysler Automobiles boss Sergio Marchionne is by some way the most interesting. He can be brash, outspoken, dismissive, amusing and charmingly charismatic, all in one 30-minute press conference.
He was on typical form when I last interviewed him, confirming a Ferrari SUV for 2019 and describing Jeep's performance in Europe as "lousy" within minutes of each other. He is a far cry from traditional execs, who often talk a lot but say little.
Marchionne is leaving his role next year, and filling the boots of such a dominant personality will not be easy. There is FCA's future direction to contend with, as well, because to these eyes at least, the company has some serious thinking to do.
On electrification, FCA looks to be well behind the curve. Sales-wise, targets have been missed over the past few years. And the leading individual brands could all be doing better.
Here in Britain, for example, the ageing 500 seems to be the only Fiat of any real relevance. The firm is so far under the radar that when the Punto recently recorded a zero-star crash test, the most common reaction was surprise that it was still on sale, rather than concern at the result.
By Marchionne's own admission, Jeep, a 4x4 brand with a formidable image, has, in Europe at least, somehow failed to cash in on an explosion in SUV sales. That's inexplicable when brands with no SUV heritage are prospering. And then there is Alfa, whose rebirth has produced two good cars but, as of now, not the expected sales volume.
Wherever you look, there are issues to address. Whoever gets the nod to follow Marchionne and take FCA forward has a big job on their hands, in more ways than one.
Do you agree with Graham? Do you think FCA still has a lot to do to conquer Europe?