Subaru could drop manual gearboxes in bid to build the world's safest cars
Manual gearboxes could make way for an auto-only range as Subaru aims to be known for building the safest cars in the world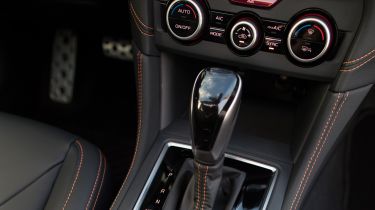 Subaru may phase out manual gearboxes in favour of its Lineartronic CVT because of the automatic gearbox's compatibility with Eyesight safety systems.
Subaru's Eyesight technology, which currently uses stereo cameras to operate its AEB, lane departure warning and cruise control technologies, will be enhanced to underpin increasing levels of automation in the future. But it is understood there are no plans to engineer it for manual gearbox applications as the firm eyes the title of 'world's safest car'. 
• Check Subaru's Geneva star: the Viziv Tourer concept
Speaking at the Geneva Motor Show, Subaru UK MD Chris Graham said: " I'm not sure if it's compatible at all with a manual gearbox. There are certainly no rumours we've heard that manual will continue, or Eyesight will be [offered] with manual. 
"My gut tells me it will be Eyesight with Lineartronic ongoing and long term. They want to steal the mantle of the safest car in the world. I think if they do that, then they say 'here's a manual without Eyesight', they'll just ruin that [message].
"We've spoken for many years about [the safety granted by] boxer engines and symmetrical all wheel drive. We're now talking about safety that's not just underpinned by the chassis, but by Eyesight, boxer and symmetrical all wheel drive. 
"All these things are reinforcing the safety message. The safety message is the thing Subaru will want to take forward." 
This could also apply to the as-yet unconfirmed next generation of WRX STI. Graham said: "For me an STI has to be a manual in the guise it is today, however if you look at [auto-only] M-series BMWs, I don't think this is the end and I'd be very excited if they had a hybrid petrol STI. That would be phenomenal in terms of its acceleration."
Do you think safety can become Subaru's core strength? Let us know your views in the comments…