'Car-related retail outlets are being increasingly brutal'
Car dealers, insurers, forecourts and local authorities are overcharging drivers at every turn, says Mike Rutherford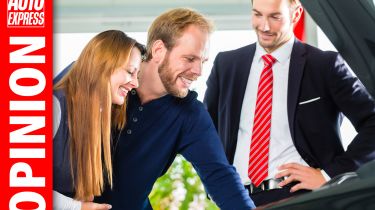 It hurts me to admit this, but some car and car-related retail outlets are being increasingly brutal with and heartless towards customers, old and new.
Gone are the days where they valued you as a loyal client, building a relationship, looking after you and your family, retaining your custom, sending you a Christmas card. In today's selling environment where too many transient 'sales' men and women don't seem to give a toss, many consumers are treated like mugs.
• The best car insurance companies as voted by you
The deeply flawed, excessively priced automatic renewal process used by insurers is a classic example of legalised fleecing. Most companies know they're overcharging existing clients come automatic renewal time. So shame on them and the toothless authorities that allow them to get away with it.
The official figures prove that inflation-busting policy prices have made car insurance the biggest rip-off of modern motoring. Petrol and diesel retailers have been better behaved lately, but are at times guilty of excessive pricing, too. Regularly fill up at motorway forecourts and you may blow thousands of extra pounds during your driving life. Invest that kind of wedge in a nice Audi, Jag, Land Rover or Porsche instead – that's my advice.
As I exclusively revealed in Auto Express weeks ago, the rules have changed in 2018 regarding your starting point for a discount on a new car. Your opening gambit must be that you're willing to pay cost price only. Why? Because that's what at least one franchised dealer – Barretts in Canterbury, Kent – is allowing its cars to be bought for this month.
Automatically going to your local dealer for car purchases, parts and servicing is madness. Sure, shop around locally, but also search the country, looking deep inside and outside the official networks. Haggle hard and reject volume cars at full price on the grounds that discounts are obligatory, not optional.
Remember, the only interest rate you should get when borrowing cash to buy your next car is zero per cent. Negotiate down franchised garage labour rates of £100-£200 per hour. If you can't, go to a specialist instead. Always get clarification that the price you're first quoted for any work is VAT-inclusive. There's nothing worse than discovering that a slippery sales exec didn't include it in the original quote. It's a nasty, misleading scam that should be banned.
As should local authority parking charges of up to £7.50 an hour. These are being dumped on car users by heinously greedy local councils such as the one in Westminster. Shouldn't there be a law against this extortionate, gross profiteering, consumer-hostile sort of thing?
Buying a new car? Our guide will take you through the process with top tips and things to watch out for…