'Brand new cost price cars could be game-changers'
Mike Rutherford wonders if more car buyers should pursue 'cost price' car deals at dealerships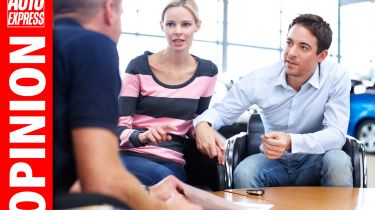 Step into normal high street shops, stores or supermarkets, demand your preferred factory-fresh products at the same prices they paid for them, then watch the sales assistants chuckle... or ask you to leave.
Usually, unless retail outlets or manufacturers receive state handouts or subsidies from elsewhere, they're unprofitable, therefore insolvent, and – in turn – dead and buried. It's that brutal. Remember the Halfords-challenging Motoring World chain? And Rover? RIP both.
So imagine my surprise when last week, after visiting my father in hospital in Canterbury, Kent, I stumbled upon an official, multi-franchised dealership selling new cars at "cost price" (CP). What, exactly, does the term mean? In short, the CP is the price at which goods are (or have been) bought by a merchant or retailer.
Alternatively, using the exact words and punctuation of the franchised retail outlet I spotted offering those CP deals last week: "We're giving you the opportunity to buy a new BMW* for cost price only, when you buy before 31 March 2018. No catches – you pay what we pay for a new BMW," the dealership repeatedly insisted... and still insists.  
I know what you're thinking – that asterisk probably gets it off the hook. But seemingly not, as there are clear assurances that the only models exempt from this offer are i, X2, X3 and the latest M5 models. This, in turn, means the many remaining derivatives in the BMW range can indeed be purchased on that promised cost price basis. Wow.
The most obvious negative? Each car must be ordered and registered rapidly – by 31 March, which means you've only got weeks to raise the wedge and do the deal. Doesn't get any better than this, does it? Er, yes it does because it's not just expensive BMWs that are being peddled at cost. The same CP deals are also available on far cheaper models in the MINI range. Most examples seem to qualify. Only the Countryman PHEV and 1499 GT don't.
Presumably this and some other BMW/MINI dealerships are relying on sales bonuses, top-secret incentive programmes, finance deals, servicing and the like for their essential profits. And that's fine if they can make the numbers stack up while still being able to survive.
Barretts was the first franchise I spotted knocking out cars at cost. But there are fellow BMW/MINI retailers doing the same. If you know of a new car showroom that isn't, consider asking it to. Subject to the small print being acceptable to the buying public, brand new cost price cars could be game-changers – maybe even the new norm. But are they sustainable?
Read our advice on negotiating the price of a new car…