'Autonomous cars are still coming, like it or not'
Following the Jaguar and Waymo deal, Steve Fowler thinks autonomous tech is here to stay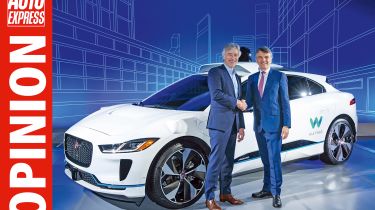 If there's one word that's guaranteed to stir debate at the moment, it's autonomy. In spite of a recent survey claiming that 78 per cent of people are broadly supportive of autonomous technology, our mailbox is split between those who agree and those who think it's a slight on humanity.
Of course, the deeply sad news of the fatal accident involving an autonomous car recently will have had an effect on views of driverless tech. And it's absolutely right that Uber, the company involved, should suspend its testing pending investigations.
However, development will continue and whether we like it or not (or choose to use it or not), autonomous technology will play a big part in our motoring future.
Along with electrification, it's a subject that dominated the New York Motor Show, with Jaguar surprisingly stealing the headlines following its announcement of a deal with Waymo – the rebadged Google autonomous car. Waymo will buy up to 20,000 all-electric I-Paces to be used as part of its ride-hailing service, but two things really stuck out for me.
Firstly, it's one hell of a fleet deal! That's a large chunk of I-Pace production, and it's a car that I think Jaguar won't be able to make enough of anyway. Then there's the kudos for Jaguar of working with Waymo – and you can be sure that the relationship will run deeper than just buying a load of cars. Expect it to benefit future Jaguar Land Rover products you might buy, too.
As someone who's a regular user of autonomous tech on some of my less enjoyable journeys, I think the benefits of arriving more relaxed, more quickly and more safely are clear. As it develops, it'll get and keep more people mobile, too. And that can only be a good thing, can't it?
Click here for our ultimage guide to self-driving cars...