New York Motor Show 2018: round-up
We take a look at everything that was on display at the 2018 New York Motor Show, from US only launches to cars we expect to see in Europe
The 2018 New York Motor Show provided plenty of excitement, with a whole host of automotive news flowing out of Manhattan. It came as no surprise that a lot of the cars revealed were predominantly geared towards to the US market (V8s, huge SUVs and trucks were very common), but there was still a large number of cars for Europeans to get excited about.
The Jaguar F-Pace SVR, Hyundai Tucson, Subaru Forester and Toyota RAV4 were the standout reveals of interest for the UK market, while the high-performance Audi RS 5 Sportback and Mercedes-AMG C 63 will also make it to our shores.
As with all the big motor shows, the Auto Express team were there scouring the show for the best automotive stories for you to enjoy. Below you'll find all the best pictures and news stories to make it out of the Jacob Javits Centre, plus we round-up what each manufacturer got up to.
Scroll down for all the news and reveals in the Big Apple this year...
New York Motor Show 2018: live gallery
New York Motor Show 2018: news headlines
• Jaguar to produce more performance SUVs• Jaguar 'R' models facing the axe• Mercedes-AMG GT R Clubsport to challenge Porsche 911 GT3• Mercedes C 300 de hybrid to match C 63's torque figure
New York Motor Show 2018: This year's big debuts
Audi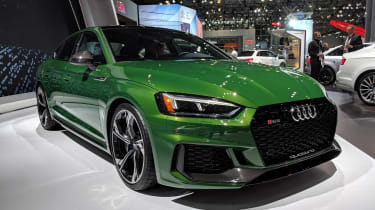 A new RS 5 Sportback was revealed in New York to join the existing coupe in Audi's range. Using the same 2.9-litre twin-turbo V6, it develops 444bhp and will sprint from 0-62mph in 3.9 seconds. Expect it to arrive in UK showrooms in the summer.
Cadillac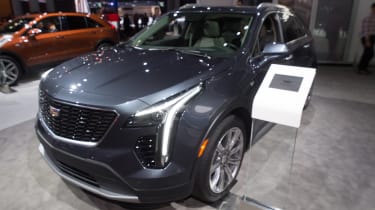 • Cadillac XT4
Cadillac are going after the BMW X1 with a third SUV called the XT4. It was one of the New York show's biggest stars, and while it isn't at all relevant for the UK market, it will be a good benchmark for how European and American crossovers rank with one another.
Genesis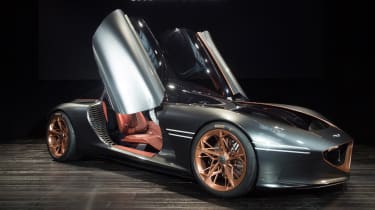 • Genesis Essentia electric coupe concept
Hyundai's luxury sub-brand Genesis revealed a new concept car called the Essentia. It is an all-electric, high-performance grand tourer that gives a glimpse into the future of the brand. It's design has been overseen by former Audi, Bentley and Lamborghini design chief Luc Donckerwolke, with its body made from carbon fibre.
Honda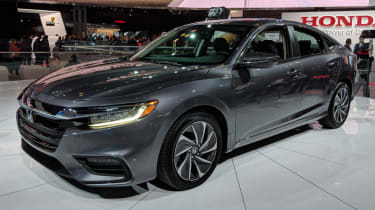 Honda revealed the new Insight saloon at New York, with the Toyota Prius rival set to be powered by the latest version of Honda's IMA hybrid powertrain, meaning it gets a 1.5-litre petrol engine and electric motor which draws power from a lithium-ion battery pack. However, don't get too caught up in its good looks and environmentally-friendly charm, as it is unlikely to be sold in the UK.
Hyundai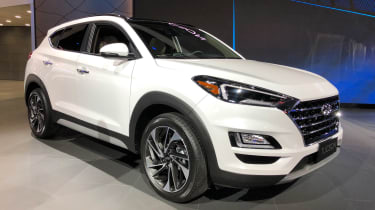 The popular Hyundai Tucson SUV has been facelifted for 2018, bringing new tech and a fresh new look. The new Tucson also features Hyundai's Surround View Monitor, which uses 360-degree cameras for help when parking, plus Autonomous Emergency Braking, Driver Attention Warning and Lane Keep Assist.
Jaguar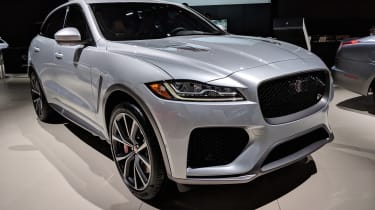 • Jaguar F-Pace SVR• Jaguar Waymo I-Pace• Jaguar to produce more performance SUVs• Jaguar 'R' models facing the axe
The Jaguar F-Pace SVR was perhaps one of the most relevant cars to the UK market at the New York Auto Show – with it being made by a British marque and also set to be sold on our sunny shores from May this year. The performance SUV aims to take on the likes of the Porsche Macan Turbo with a supercharged 5.0-litre V8, producing 542bhp.
Jaguar also announced it has plans to produce more high-end sporty SUVs and even high performance electric cars. However, its electrification plans don't stop there, as Jaguar revealed it will be teaming up with Waymo to produce up to 20,000 electric, and autonomous, Jaguar I-Paces.
Kia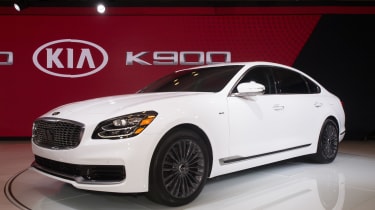 • Kia K900
The Kia K900 was another big reveal for the North American market. Away from Europe, Kia competes in the luxury saloon segment and the new K900 is sized appropriately - the 3,105mm wheelbase is longer than that of a regular Mercedes S-Class.
Mercedes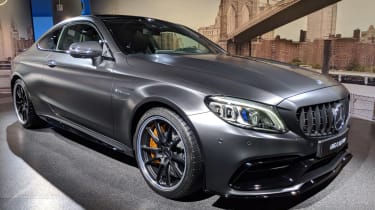 • Mercedes C-Class Coupe and Cabriolet• Mercedes-AMG C 63• Mercedes-AMG GT R Clubsport to challenge Porsche 911 GT3• Mercedes C 300 de hybrid to match C 63's torque figure
Mercedes facelifted the C-Class Coupe and Cabriolet for 2018, following on nicely from the updated C-Class saloon we saw at the Geneva Motor Show earlier this year. Not only that, but the high-performance C 63 models were updated too, and made an appearance at the show in the Big Apple.
On top of this, Mercedes-AMG is developing a GT R Clubsport to challenge the Porsche 911 GT3 and GT3 RS. Honed on the Nordschleife, the Mercedes is intended to tempt buyers away from its German competition.
Subaru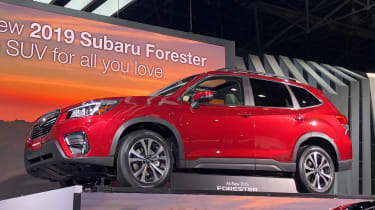 Another debut with UK relevance, the next Subaru Forester is on the way. The firm's upcoming Mazda CX-5 rival was revealed in New York and is expected to go on sale in the UK before the year is out. Its design is based on that of the Viziv Future concept from the 2015 Tokyo Motor Show.
Toyota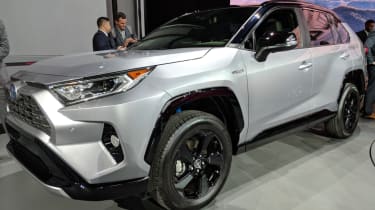 The new Toyota RAV4 officially arrived in New York, coming with design cues from the FT-AC concept and hybrid powertrain. The SUV is be arriving in Europe early next year and it will be both taller and wider than the model it replaces. It will be offered with two powertrains: a 2.5-litre hybrid electric setup and a 2.0-litre petrol.
Volkswagen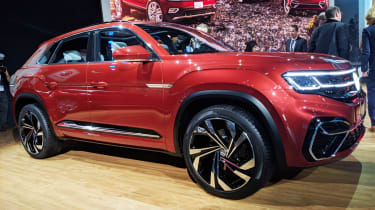 • Volkswagen Atlas Cross Sports concept• Volkswagen Atlas Tanoak concept
We don't get Volkswagen's enormous Atlas here in the UK, but the firm is planning to expand the range with a five-seat, coupe-roofed version of its largest SUV for the American market. A concept called the Cross Sports was revealed at New York, which is set to transition into showroom a model early in 2019.
Joining the Cross Sports, was another Atlas-based concept called the Tanoak. Named after a tree native to Pacific coast, it's a posh pick-up featuring a 276bhp 3.6-litre V6. There are no plans for it to make production, but VW bosses are keen to gauge public reaction.
What's the highlight of the New York Motor Show for you? Let us know in the comments...