Jaguar 'R' models facing the axe
JLR SVO design boss reveals future models set to wear 'S' and 'SVR' badges only, claiming there's no place for 'R' cars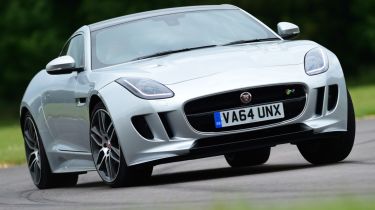 Jaguar is likely to kill of 'R' versions of future models to avoid confusion and to allow its SVR models "to shine". 
Traditionally the British brand has used the letter 'S' to denote sporty models and 'R' for the most powerful derivatives. But since the re-launch of Jaguar Land Rover's Special Vehicle Operations (SVO) division in 2014 and super high-performance SVR cars joining model ranges, Jaguar believes there is now too much confusion for customers. 
• Jaguar eyes up more performance SUVs
"To be completely honest Jaguar is a fairly small brand and probably in reality there is not enough room in each model line to have an R and an SVR," Wayne Burgess, Jaguar SVO design director, told Auto Express. "We have found F-Type R and F-Type SVR kind of compete against each other. The truth of the matter is that F-Type R is a great car and, in some respects, SVR has a challenging time because the R is such a good car in the first place."
By deleting R models Burgess believes the higher performance SVR models will get the attention Jaguar thinks they deserve. There will be less confusion for customers and Jaguar will be able to impose a clearer pricing structure, too. The first signs Jaguar is leaning towards an 'S' and 'SVR' model strategy is the new F-Pace SVR. 
Revealed at the New York Motor Show, the 542bhp supercharged 5.0-litre V8 SUV is the most powerful F-Pace Jaguar currently builds. No 'R' model has been launched and instead the SVR is supported by an F-Pace S powered by either a supercharged 3.0-litre V6 petrol or a turbocharged 3.0-litre V6 diesel engine.    
"We would rather have a genuine SVR halo in the line-up and then jump an R model – that is better way of doing things," added Burgess. "In a model line that doesn't have an R, it can allow SVR to really shine. 
"You can see the dilemma we have and why F-Pace has gone the way it has. From a design and product point of view, it is great to have an SVR because you have that extra headroom and level of differentiation. Sidestepping an R model also sidesteps potential pricing issues."
Take a look at the new Jaguar F-Pace SVR, which was revealed at the 2018 New York Motor Show...