Jaguar eyes up more performance SUVs and electric cars
Over the coming decade, British brand Jaguar looks to build more high-end sporty SUVs and high performance electric cars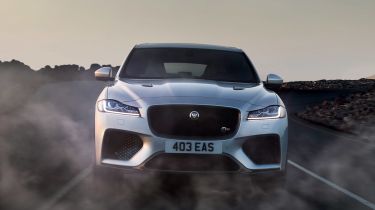 Jaguar will focus on building high performance versions of its SUVs in the coming decade, in particular refining the idea of making powerful and sporty electric cars.
Revealed this week at the New York Motor Show, the Jaguar F-Pace SVR, powered by a 542bhp 5.0-litre supercharged V8, will allow Jaguar to take on high-end, performance SUVs like the Porsche Macan Turbo, and also cater for a growing market – a market that is solely interested in performance SUVs and not powerful sports saloons. 
To appeal to this growing band of buyers, Jaguar will look to add more performance versions of its SUVs in the future – and even its bespoke, limited run Project cars could get an SUV model. 
"SUVs are the fastest growing type of car - everyone loves an SUV," said Wayne Burgess, Jaguar SVO design director. "We've certainly enjoyed designing SUVs that have credible Jaguar styling language with SUV packages, so I can see no reason why we couldn't do increasingly high performance halo cars with SUVs.
"Look at the success of Range Rover Sport SVR – we've taken the wrong car (in size and stature) and done a performance version. But because of the kind of car it is – an SUV – everyone wants it. It's not the most efficient way but, as we're seeing, people are tending to prefer SUVs to saloon cars." 
One potential SUV model to get the SVR treatment could be the new I-Pace. Having beaten many rivals like Audi and Mercedes in the game of building an all-electric SUV, Jaguar is pondering how it can dominate the market for a performance EV SUV.
"We are looking at how best to interpret the SVR concept on electric cars," Hanno Kirner, Jaguar Land Rover's executive director for corporate strategy, told Auto Express. "We haven't decided yet with I-Pace but with every car we do it is possible. 
"Don't forget it's not just SVR our SVO team create but also SVA for the plushier cars and SVX for more off-road interpretations. We could do an electric car that's an SVA and we really do think there is the space for a performance electric car or more than one."
To allow Jaguar Land Rover to build halo models, it will look to its new flexible powertrain architecture that will allow the British brand to have economies of scale. 
"Two years ago we took the strategic decision that all our architecture for future cars will be power train flexible, so all our cars after 2019 will be launched on our one of our flexible architectures. These architectures will be full electric, hybridised or piston-engined with an MHEV (mild hybrid system). We need to give people a choice. Some people will want an all-electric car, others a hybrid to travel long distances while others will always want a V8."
Take a closer look at the new 542bhp Jaguar F-Pace SVR right here...