Jaguar Land Rover SVO eyes bespoke sports car to rival Mercedes-AMG
JLR's Special Vehicle Operations division is keen to create its own bespoke sports car in the wake of the Project 7 and new Project 8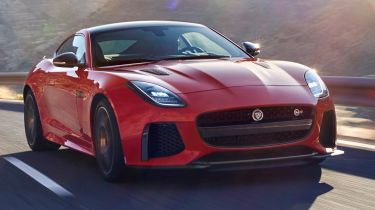 Jaguar Land Rover's Special Vehicle Operations (SVO) division, responsible for the new XE SV Project 8, will build its own bespoke models in the future, according to brand boss John Edwards.
Rather than sticking to enhanced versions of existing models like F-Type-based Project 7 and XE-based Project 8, the SVO division will also target cars like the Mercedes-AMG GT by creating a totally unique sports car of its own.
"Deep down we want to make our own model," Edwards told Auto Express. "Just look at the success of the [Mercedes] AMG GT."
• Goodwood Festival of Speed 2017
It's possible that Jaguar could create a rival for the AMG GT by using the mechanical make-up of the F-Type SVR (right) and dressing it in a bespoke body, with a unique interior.
Edwards emphasised the need for SVO to get its early 'Project' cars right before embarking on standalone models, however. While it's currently unclear which JLR products are next in line for the SVO treatment, Edwards explained that the Jaguar F-Pace and upcoming Range Rover Velar SUVs had "great potential".
The new XE SV Project 8 went from first sketch to official reveal in 12 months, proving JLR has the ability to accelerate development of its future bespoke sports car should it wish. Edwards praised the freedom his team of engineers had been given for the Project 7 and Project 8, in fact, and confirmed he was looking towards the next generation of products.
Would a bespoke Jaguar SVO sports car be a hit? Have your say in the comments...