New Mercedes C 300 de hybrid to match C 63's torque figure
Mercedes' C-Class diesel hybrid, which is likely to be badged C 300 de, to boast 700Nm of torque, but have emissions of less than 40g/km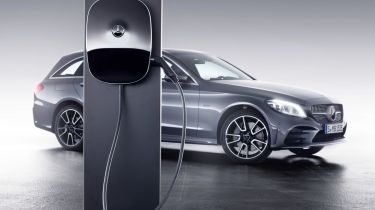 The new Mercedes C-Class diesel hybrid will have torque figures to match the high-performance C 63 AMG models along with CO2 emissions of less than 40g/km when it reaches dealers at the end of this year, it has emerged.
Likely to be badged C 300 de, the new model - which flies in the face of industry trends away from mixing diesel engines with electrification - will blend Mercedes' latest OM654 2.0-litre four-cylinder diesel engine with an electric motor producing 121bhp and a 13.5kWh battery pack. Now the man in charge of C-Class has told Auto Express that the torque figure for the combined powertrain will match the 700Nm on offer in the C 63 S AMG super-saloon. 
"We think this will be a really strong proposition," Christian Fruh, C-Class engineering boss, told Auto Express at the New York Auto Show. "The torque figure is really strong, because you combine the 400Nm in the OM654 and 440Nm from the 90kW electric motor. The limiting factor becomes the transmission, because 840Nm would exceed the maximum capability of the gearbox, so the final figure is limited to 700Nm. This is will be such a rapid vehicle."
It should also be an efficient one - and appealing under company car taxation rules. Because Fruh also admitted that the C 300 de will have CO2 emissions comfortably below those of the existing C-Class plug-in hybrid, the C 350 e. That car manages 48g/km of CO2 but Fruh said Mercedes expects the C 300 de to post a figure of around 38g/km. 
The C 300 de will have a pure-electric range of around 50km (31 miles) and Fruh said the strength of the electric motor has helped engineers to deliver smooth 'coasting' at cruising speeds, where the C-Class turns the diesel engine on and off depending on the throttle load. "It has a very smooth transition," he said. "The electric motor is such a strong device that we've been able to do this." 
There will also be a plug-in hybrid version of the revised C-Class based on four-cylinder petrol power. It's expected to reach the market around the same time as the C 300 de, although Mercedes may choose to hold off its debut until autumn's Paris Motor Show.
Do you think a diesel hybrid is a good idea? Let us know your thoughts below...