Latest live M4 traffic news
Live M4 traffic news and updates for M4 junctions, plus real time travel reports on delays, accidents, roadworks and snow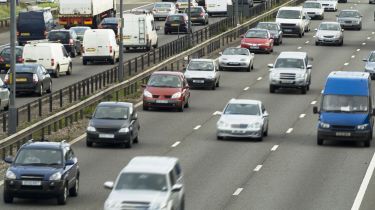 The M4 is the main road running between London and South Wales, passing via Slough, Reading, Swindon, Bristol, Newport, Cardiff and Swansea along the way. Much like the rest of the UK's road network, the M4 has its areas most likely to cause tail backs – primarily where it joins the M25 on the west of London and also where it meets the M5 near Bristol. Naturally, accidents, roadworks and other traffic issues cause delays, so it pays to be on top of your journey before you start your engine.
There used to be a toll road charge to cross the M4 Severn bridge that joins England and Wales, but after 52 years, the charge was scrapped on December 17th 2018.
Generally the majority of the M4 tends to stay relatively clear, but the 189-mile route can see extra congestion during rush hour and summer holidays. If you're planning to use any section of the M4 motorway, this page will be a useful aid for travel alerts, live updates and an incident map for both westbound and eastbound lanes.
Tweets
Scroll down to find live tweets from the Highways Agency, official police accounts and other traffic news feeds.
M4 live traffic map
If there is traffic disruption on the M4 you can keep up to date on any delays with our live and continuously updated M4 traffic map.
The map below shows live updates on the current disrupted areas of the M4 for roadworks, accidents or general congestion causing delays on the route…
M4 weather report
Details of the latest weather warnings in the M5 area from the Met Office...
• Met Office South West weather report
The history of the M4
The Ministry of Transport first proposed a new road from London to South Wales in the 1930s. Plans for the M4 as one of the first major post-war trunk roads were produced in 1956 and construction began in 1961. The Chiswick flyover, a short section of elevated dual-carriageway built to reduce the impact of traffic travelling between central London and the west, opened in 1959 and later became part of the new M4 route. The section from J18 to the west of Newport was opened in 1966, including the Severn Bridge, which is now part of the M48.
The English section of the motorway was completed in December 1971 when the 50-mile stretch between Maidenhead and Swindon was opened for public use. The Welsh section was finished in 1993, when the Briton Ferry bridge opened. The Second Severn Crossing opened in 1996, and motorways on either side of the river carried the M4 over the new crossing when construction was finally completed.
• M5 traffic: live news updates
M4 junctions
All of the M4 junctions on the southbound and northbound carriageways are detailed below...
Eastbound exits (B carriageway)
Junction
Westbound exits (A carriageway)
Road continues as A4 to Central London
J1
Start of motorway
North Circular A406
J2
Staines, Hounslow, Brentford A4
Heston services
Services
Heston services
Heathrow (Terminals 4, 5 & Cargo), Hayes, Harrow, Hounslow A312
J3
Heathrow (Terminals 4, 5 & Cargo), Hayes, Harrow, Hounslow A312
Heathrow (Terminals 1, 2 & 3) (A4)

Uxbridge A408

J4a
Heathrow (Terminals 1, 2 & 3) (A4)
Heathrow (Terminals 4, 5 & Cargo) , Gatwick Airport , Watford (M3), (M23), (M40), (M1) M25
J4b
Heathrow (Terminals 4, 5&Cargo), Gatwick, Watford (M3), (M23), (M40), (M1), M25
Colnbrook, Langley, Slough (East) A4
J5
Colnbrook, Langley, Slough (East) A4, Datchet B470
Slough (Central) A355
J6
Slough (Central) A355
Slough (West) A4
J7
Slough (West) A4
High Wycombe, Henley A404(M)
J8/9
High Wycombe, Henley A404(M)
Reading (East), Wokingham, Bracknell A329(M)
J10
Reading (East), Wokingham, Bracknell A329(M)
Basingstoke, Reading (Central & South) A33
J11
Basingstoke, Reading (Central & South) A33
Reading services
Services
Reading services
Reading (West), Theale A4
J12
Reading (West), Theale A4
Newbury, Oxford A34
J13

Services

Newbury, Oxford A34
Hungerford, Wantage A338
J14
Hungerford, Wantage A338
Membury services
Services
Membury services
Swindon (East) A419
J15
Swindon A419, Marlborough A346
Swindon (West), Royal Wootton Bassett, Wroughton, RAF Lyneham, Calne A3102
J16
Swindon (West), Royal Wootton Bassett, Wroughton, RAF Lyneham, Calne A3102
Chippenham A350
J17
Chippenham A350
Leigh Delamere services
Services
Leigh Delamere services
Bath, Stroud A46
J18
Bath, Stroud A46
Bristol M32
J19
Bristol M32
The SOUTH WEST, Bristol (West), The MIDLANDS, Gloucester M5
J20
The SOUTH WEST, Bristol (West) M5(S)

The MIDLANDS, Gloucester M5(N)

No access
J21
Chepstow M48
Avonmouth M49
J22
Avonmouth M49
Entry into England
Second Severn Crossing
Entry into Wales
No toll plaza
Bridge Toll
Toll plaza
Chepstow M48
J23
No access
Magor, Caldicot A4810
J23A

Services

Magor, Caldicot A4810
City centre A48
J24
City centre A48
No access
J25
Caerleon B4596
No access
J25A
Newport, Cwmbran A4042
Brynglas Tunnels
Tunnel
Brynglas Tunnels
Newport, Cwmbran, Caerleon A4051
J26
Newport A4051
High Cross B4591
J27
High Cross B4591
Newport A48
J28
Newport A48
No access
J29
Cardiff (East and South) A48(M)
Cardiff (East) A4232
J30

Services

Cardiff (East) A4232
Merthyr Tydfil, Cardiff A470
J32
Cardiff (North), Merthyr Tydfil A470
Cardiff (West), Barry, Penarth A4232
J33

Services

Cardiff (West), Barry, Penarth A4232
Llantrisant, Rhondda A4119
J34
Llantrisant, Rhondda A4119
Pen-coed A473
J35
Bridgend, Pen-coed A473
Bridgend A4061
J36

Services

Bridgend A4061
Pyle, Porthcawl A4229
J37
Porthcawl, Pyle A4229
Port Talbot A48
J38
Port Talbot A48
No access (on-ramp only)
J39
No access
Port Talbot A4107
J40
Port Talbot A4107
Port Talbot A48
J41
Briton Ferry A48
Briton Ferry A48
J42
Swansea (South) A483
Neath, Merthyr Tydfil A465
J43
Neath, Merthyr Tydfil A465
Swansea (East) A48
J44
Swansea (East) A48
Pontardawe, Swansea (North) A4067
J45
Pontardawe, Swansea (North) A4067
Llangyfelach B4489
J46
Llangyfelach B4489
Swansea (West) A483
J47

Services

Swansea (West) A483
Pontarddulais, Llanelli A4138
J48
Pontarddulais, Llanelli A4138
Start of motorway
J49

Terminus

Services

Motorway terminates at a roundabout:

Pontarddulais A48