'Public transport prices amount to legalised theft'
With buses, taxis and high-speed trains becoming ever more costly, Mike Rutherford believes cars are unrivalled on price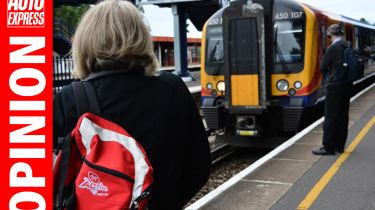 Remember the Integrated Transport Policy and other John Prescott brain waves of two decades ago? They were supposed to offer seamless, affordable travel via different modes of public transport. Accessible hire cars arriving just in time to scoop up passengers as we stepped off on-time (fat chance!) trains and planes; quicker, more comfortable and viable rail trips designed to reduce car journeys.
Of course, power-drunk Prescott – the most hypocritical politician I've ever come across – saw his not-so-bright ideas fail. Transport matters under Blair and Prescott's Labour were comical. But to be fair, the tragedy continued during Cameron and Clegg's Con-Lib Coalition.
• Motorway petrol stations facing enquiry over prices
And Theresa May's current Conservative Government has relegated transport to the bottom of the list, too. I'm still bus-phobic, but lately I've used exorbitant overground, underground and light (DLR) train services in the capital that don't integrate well, never mind the river boats, cable cars and Thames ferries they're supposed to connect with.
Why eight short train trips, plus miles of walking during my 44-mile round trip from the south east suburbs to the Motor Show at ExCeL, east London? And how can nearly £50 for my second-class one-day travelcard be justified? That's over a quid a mile and is one of 2018's great train robberies.
Continuing the theme of legalised theft, I flew into a UK airport recently, and needed a small hire car for a few hours, but was quoted £100-plus for the 60-mile one-way rental. Instead, I grabbed a still pricey £90 taxi.
It gets worse. The closest I have to a favourite train is the 7.11am from where I live to central London. For years it took 53 minutes. But after the introduction of the new rail timetable on 20 May, the ride has been extended to 83 minutes. That's a 57 per cent time penalty. This is progress? According to a rail industry boss, the new timetable delivers "huge benefits" to people like me. Really?
The same rail industry christened the railroad from the Kent coast to St Pancras International the High Speed line (HS1). How can it be when the timetable confirms that some passengers paying £22 take nearly three hours to cover just 30 miles? Based on HS1's journey time and per person fare, it'd be faster and cheaper for an individual to do the journey in a mid to large Jag, Audi, Merc or BMW. With four or five in the car, it's under a fiver a head.
To put all that another way, on occasions like this, the no-frills, allegedly high-speed train is far slower and about five times more expensive than the large, luxurious premium car. Drivers plus adult and child passengers travelling in cars that run 24/7, 365 days a year – now that's my idea of integrated transport.
Now read why Mike thinks the Department for Transport is out of touch…