New Citroën C3 Aircross: make it personal (Sponsored)
With a staggering 85 personalisation options, you can make your Citroën C3 Aircross as individual as you are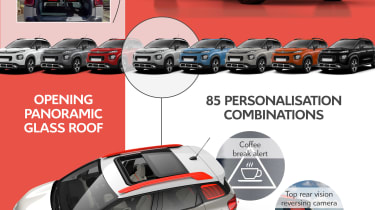 Small SUVs are hot property at the moment, so it takes something very special to stand out in a crowded market. The award-winning Citroën C3 Aircross is just such a model, blending stylish design with huge scope for customisation - and the clever thinking for which Citroën is world-renowned.
The funky Citroën C3 Aircross will certainly stand out in any environment, with its rugged SUV looks and those 'Venetian Blind' rear quarterlights. But with up to 85 exterior personalisation combinations, including four roof colours and four exterior 'Colour Packs', there really is something for everyone.
It's no less striking inside either, with five interior design choices available, each delivering different combinations of colours and fabrics.
And yet, the Citroën C3 Aircross doesn't place style over substance. It has an impressive amount of interior space - a feeling that's emphasised on models fitted with the opening panoramic roof - and boasts plenty of cabin storage too. There's even a huge 520-litre boot, which is larger than that of some models from the class above.
The C3 Aircross forms part of the Citroën Advance Comfort programme, which aims to take the stress out of driving by simplifying features and enabling seamless connectivity. It is also a commitment to making driving more comfortable, through improved seat design, supple suspension and soundproofing.
Grip Control with Hill Descent Assist provides reassurance whatever the terrain. This enhanced traction control system maximises control on steep inclines and reduces the risk of the wheels slipping. You can choose the standard mode or select Sand, All-Road, Snow or ESP off modes, which further enhances its SUV appeal.
Take our quick survey for a chance to win a £100 Amazon voucher!
Click here for more from the Citroen C3 Aircross series
• Choosing a New Citroën C3 Aircross is child's play• The race is on for New Citroën C3 Aircross• New Citroën C3 Aircross: Behind the scenes