Fernando Alonso won't race in F1 in 2019
Two-time world champion Fernando Alonso won't feature on the F1 grid in 2019, but doesn't rule out a return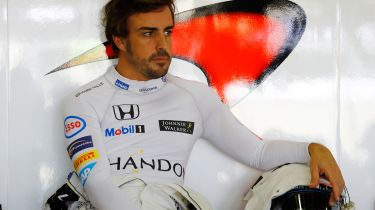 Fernando Alonso will depart Formula 1 at the end of the 2018 season, the 37-year-old has confirmed.
The McLaren driver - who won world titles in 2005 and 2006 - is widely considered to be one of the best racers of his generation, but he has toiled in the years since his move to the Woking team in 2015.
• Opinion: 'Daniel Ricciardo's Renault move is a gamble'
Alonso had hoped McLaren's then new partnership with engine providers Honda would propel him to a third world championship, but severe unreliability proved fatal to that ambition.
A switch to Renault engines this year was expected to revive McLaren's fortunes, but they remain off the pace of the frontrunners, leaving Alonso on the brink.
"After 17 wonderful years in this amazing sport, it's time for me to make a change and move on," he said in a statement. "I have enjoyed every single minute of those incredible seasons and I cannot thank enough the people who have contributed to make them all so special.
"I want to thank everyone at McLaren. My heart is with the team forever. I have built so many great relationships with many fantastic people at McLaren, and they have given me the opportunity to broaden my horizons and race in other categories. I feel I am a more complete driver now than ever."
McLaren CEO Zak Brown echoed that sentiment, saying Alonso is "in the finest form of his career" and "an outstanding ambassador for McLaren".
"There is a time for everyone to make a change and Fernando has decided the end of this season to be his," Brown continued. "I know that the entire team joins me in paying tribute to Fernando's enormous contribution to McLaren; he is a legend both for the championship and for the team."
Departing F1 leaves Alonso free to contest the IndyCar series in the United States; he competed at the Indianapolis 500 last year in a bid to claim motorsport's triple crown of blue riband events, the others being the Monaco Grand Prix and the 24 Hours of Le Mans.
Alonso won the latter of those earlier this year, and now only needs the Indy 500 to complete a feat that has only been achieved once before, by Graham Hill in 1972.
However, while Alonso is now free to pursue other ambitions, he stopped short of calling his Formula 1 exit a retirement, suggesting he could return in the future.
"I know they [McLaren] will come back stronger and better in the future and it could be the right moment for me to be back in the series; that would make me really happy.
"Let's see what the future brings."
Take a look at the teams and drivers lining up on the F1 grid in 2018…