Future headlight tech
The car industry isn't stepping off the gas when it comes to headlights, there are a number of exciting developments in the pipeline...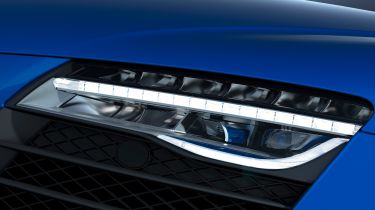 Two of the most exciting developments in the headlight sector are laser and digital lights. While the latter is some way off production, the former is starting to trickle down into everyday vehicles.
BMW is the current leader in laser lights, and offer its razor sharp headlamps on the high-tech i8 supercar but they come at a price – £5,100 to be exact. BMW was, however, beaten by Audi in the race to sell the first road-going car equipped with laser lights as the R8 LMX supercar took that prize back in 2014.
How do laser lights work?
Laser lights work by firing a laser at phosphorous, which then emits light. The light released is then filtered by passing it through a lense before hitting a reflector and illuminating the road ahead.
Unlike early headlamps which had a single, large reflective bowl surrounding the light source, these ultra-modern units utilise hundreds of individually adjustable mirrors which allow the car's electronics to fine tune which areas of the road ahead are illuminated. This also means, laser lights are a type of adaptive headlight.
Digital lights – a game changer
While xenon, LED, matrix and laser lights are very exciting, Mercedes has been working on something all the more interesting – "Digital Light". Straight from the Philip K Dick store of futuristic things, these headlights can project valuable information onto the road ahead, such as directions, missing road markings and even zebra crossings for pedestrians. That being said, Mercedes has been a little vague on exactly how they will work, or when they will become available.
Take a read of our Audi R8 LMX review here.