Plug-in hybrid car sales stopped amid WLTP delays
Tough new WLTP tests see PHEVs withdrawn from sale as manufacturers prioritise certification of volume-selling models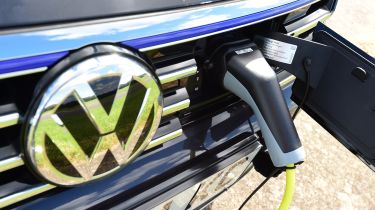 A number of major German car makers have stopped taking new orders for their plug-in hybrid (PHEV) models. The cessation comes as manufacturers continue to recertify their model ranges to tough new WLTP efficiency assessments.
The Volkswagen Passat GTE and the Golf GTE PHEVs – Europe's second and fourth most popular plug-ins – are currently unavailable to order, as the company is believed to be prioritising the recertification of volume sellers – essentially cars with TSI petrol and TDI diesel engines. The Passat GTE is likely to return to market when the car is facelifted next year, while the Golf GTE should reappear at a similar time.
• Best plug-in hybrid cars on sale
And, in the same week it announced it would no longer sell cars with diesel engines, Porsche is believed to be no longer accepting factory orders for the Cayenne E-Hybrid and Panamera E-Hybrid.
Porsche said it is "is making the model range fit for future emission standards" and that as a result of "conversion of the model range to the gasoline engine particulate filter (GPF) and obtaining new type approvals…a temporary restriction to a limited model range is in force". The company added that prospective buyers can contact dealers "in regards to ordering new models already during the transition period."
BMW also confirmed it is no longer taking orders for the 7 Series 740e PHEV, and this model will likely remain off sale until next year's expected facelift arrives. The 3 Series 330e plug-in is also no longer available to order, as BMW prepares to launch an all-new model.
Mercedes currently offers no PHEVs in the UK, although this is believed to have been the case for some months. Plug-in versions of the S-Class and E-Class are likely to arrive before the end of 2018, while the C-Class PHEV is expected to reappear next year as the full range of facelifted C-Class models is released. A plug-in hybrid version of the new Mercedes GLE is also due, most likely in 2019.
Read our round-up of the best pure electric cars on sale here...
Get the latest electric car news, reviews and analysis on DrivingElectric.com