No more Porsche diesel cars as the firm abandons the fuel
Porsche announces it will not offer diesel cars in future after refocusing its efforts on hybrid and electric car technology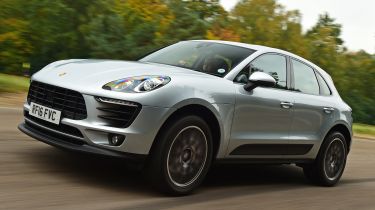 Porsche will no longer sell diesel cars. The official announcement that finally consigns diesel versions of the Cayenne and Macan SUVs, as well as the Panamera 4-door, to the history books comes off the back of Porsche's pause in diesel car production earlier this year.  
Porsche had stopped production of all of its diesel-powered models in light of growing consumer scepticism over such vehicles and a growing interest in hybrid and pure electric technology. Now it seems there will be no reprieve. 
Porsche plans to invest six billion euros in electrified car technology by 2022 and points out that 63% of Panameras sold in Europe are already hybrids. By contrast, demand for Porsche diesels is down in line with the decline in popularity of diesel cars across the market. Only 12% of Porsche's worldwide sales in 2017 were diesel powered.  
"Porsche is not demonising diesel" said Porsche CEO, Oliver Blume. "It is, and will remain, an important propulsion technology. We as a sports car manufacturer, however, for whom diesel has always played a secondary role, have come to the conclusion that we would like our future to be diesel-free. Naturally we will continue to look after our existing diesel customers with the professionalism they expect," 
Porsche's first electric car, the Taycan, will arrive in showrooms in 2019 and the brand predicts that by 2025 50% of its new car sales could be pure electric or hybrid. The new Porsche 911 is also expected to use hybrid technology. To appease the purists, however, Porsche also points out that development of more powerful and efficient internal combustion engines remains central to its future strategy.
"Our aim is to occupy the technological vanguard – we are intensifying our focus on the core of our brand while consistently aligning our company with the mobility of the future," said Blume.
Porsche's diesel departure had been on the cards for some time. It was previously thought that falling demand and ongoing investigations by environmental authorities in light of the Volkswagen Group 'Dieselgate' emissions scandal, had led Porsche to call time on diesel. Then Porsche hinted it was simply taking a diesel holiday while keeping its future product planning options open. Now we know, that the era of Porsche diesels is at an end.
In 2017, alongside Audi and Volkswagen, Porsche issued a voluntary software update for owners of diesel vehicles fitted with so called 'defeat devices'. Porsche admitted that the Macan S diesel's removal from sale earlier in 2018 was linked to an "ongoing consultation with the authorities in relation to another software update", suggesting that Porsche had decided to axe that particular model rather than re-engineer it for assessment under new Worldwide Harmonised Light Vehicles Test Procedure (WLTP). 
Is Diesel truly on its deathbed? Read more about what the industry thinks here.