More UK drivers testing positive for alcohol, but police breathalyse fewer motorists
Govt figures show number of breath tests issued by police has plummeted in recent years, as proportion of positive breath tests increase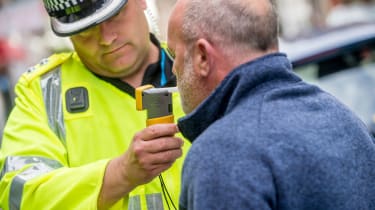 The proportion of drivers failing roadside alcohol breath tests has increased for the last five years, as the number of drivers being breathalysed has plummeted.
Official figures from the Department for Transport (DfT) show 147,550 drivers were tested at the roadside for alcohol in 2017, with 12.4 per cent failing the test. But in 2016, 178,102 drivers were breathalysed, with 11.5 per cent failing the test. 
That pattern has been repeated over the last five years. More than three times as many (474,603) drivers were breathalysed in 2013 compared to 2017, while failure rates were just 9.4 per cent. 
While the DfT's figures don't suggest what could be causing the increase in positive breath tests, reduced police numbers may be forcing officers to target drink drivers more successfully, or the proportion of motorists who get  behind the wheel when over the limit could be increasing. 
 
2017
2016
2015
2014
2013
Breath tests issued
147,550
178,102
256,098
310,017

 

 

474,603

 

 

Passed
129,187
157,682
228,957

 

 

279,307

 

 

429,760

 

 

Failed
18,363
20,420
27,141
30,710

 

 

44,843

 

 

Percentage failed
12.4
11.5
10.6%
9.9%
9.4%
Whatever the explanation, previous research from the DfT revealed the number of people dying on our roads at the hands of drink drivers increased by 18 per cent in 2016 compared to 2015.
Differentiating between correlation and causality is a notoriously problematic when interpreting statistics, but officials records show the number of police has shown the number of traffic officers plummet by a third over the last decade.
Find out more about the UK drink drive limits here...