Roadside breathalyser tests at lowest level for 18 years
Police in England and Wales conducted just 285,380 roadside breath tests in 2019 - down 40.74 per cent since 2002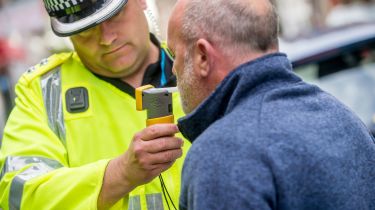 Roadside breathalyser tests have hit their lowest level in 18 years, new Government figures reveal.
Police in England & Wales (with the exception of the Metropolitan, Norfolk, Suffolk and Sussex forces) conducted just 285,380 roadside breath tests in 2019, according to the Home Office -  down 11.58 per cent from the 322,769 carried out in 2018.
The figure for 2019 represents a 40.74 per cent overall decline since records began in 2002 and is 57.41 per cent lower than the 2009 peak of 670,023 tests.
This is in spite of 2.2 million speeding fines having been handed out last year - up 7.8 per cent on 2018. Careless driving and seatbelt offences also rose 33.5 per cent and 84.3 per cent respectively between 2018 and 2019.
The number of fines issued for drivers using a handheld mobile phone fell by 26.5 per cent, though.
Edmund King, president of the AA, commented: "It is worrying that drink driving tests are at their lowest point in 18 years. Regrettably, this only highlights the massive reduction in the number of specialist traffic officers on our roads.
"While cameras are a useful tool in helping police our roads, we cannot solely rely on them. A camera cannot stop a drink-driver, or pull over someone driving carelessly, so having more cops in cars will help eliminate poor and dangerous driving."
An AA Populus survey of 20,410 people conducted in November 2018 revealed 69 per cent of drivers believe it is unlikely they would be caught driving carelessly near their home, while 43 per cent think they could get away with driving without insurance.
King continued: "The AA believes that we should set a target of zero road deaths by the end of the decade, and can only reach that if a significant effort is made to meet that ambition. As well as more police, we'd like to see more road safety campaigns and road safety made part of the national curriculum in order to eliminate the levels of driver complacency.
"We are pleased that a significant effort has been made to tackle people not wearing a seatbelt, as a distressingly high proportion of car occupants killed in collisions were found not to be wearing one.
"Likewise, the use of covert HGVs is a contributory factor in the reduction of people using a handheld mobile phone behind the wheel. The recent announcement to close the loopholes around mobile phone use while driving will help too."
For more information about drink-driving tests click here