'Car firms should donate £5 to good causes every time they make a sale'
Car manufacturers should be more charitable, says Mike Rutherford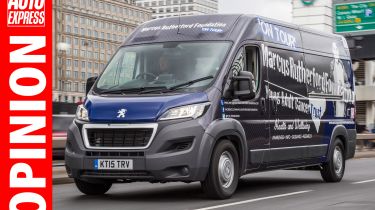 Aston Martin boss Andy Palmer's decision to form, fund and front his own foundation serving much-needed apprentices and apprenticeships is unusual and inspired.
Also doing their bit are lesser-known UK motor industry organisations such as Women on the Move Against Cancer (WOMAC) and BEN, which is part-funded by the UK automotive industry; both merit praise.
But why aren't more leading car companies stepping up to the plate and publicly vowing to, for example, give a tiny percentage of their multi-billion-dollar profits to good, worthy, life-saving causes that are determined to spend their funds on the people who matter most: those with real problems, and in genuine need of help and support?
To be fair, in Britain at least, some car firms quietly show their generous side via corporate social responsibility (CSR) schemes and other programmes. Jeep, for example, couldn't help me enough (with vehicles, personnel, shipping costs etc) when I recently sent thousands of old books to Zambia and Botswana before helping to build the libraries that now house them.
Hyundai (Stand Up to Cancer), JLR (various charities), Mitsubishi (Wiltshire Air Ambulance) and Peugeot (Marcus Rutherford Foundation/Young Adult Cancer Trust battle bus) deserve special mentions, too.
But where are the global motor manufacturers (or at least the wealthier ones) shouting from the rooftops of their World HQs that they're now prepared to 'give back' a tiny but potentially life-saving percentage of their annual profits to charitable organisations committed to vehicle-related causes, such as accident reduction, driver training, cleaner air, support for accident victims, unbiased (often they're not) research programmes and the like? 
Why don't ALL car companies – particularly those implicated in emissions scandals – sign up to donating five quid, five dollars or five euros to good causes every time they sell a car? Symbolically and actually giving back each time a buyer signs on the bottom line would be small change most companies simply wouldn't miss. But imagine what a difference the subsequent fund of countless millions could and should make to the lives of innocent victims adversely affected by pollution and related road transport issues.
For smaller, less wealthy companies, even donating £1 per sale would be a step in the right direction. Any car firm out there ready to start the ball rolling?
Mike Rutherford has asked that his fee for writing this column be sent direct to the Marcus Rutherford Foundation/Young Adult Cancer Trust which will, in turn, pass on every penny to a young cancer patient in need.
Read Mike's previous column about 30 years of Auto Express...