'Congrats are in order if you've still got your copy of AE No.1'
Mike Rutherford celebrates how far Auto Express – and the automotive industry – has come in the last three decades...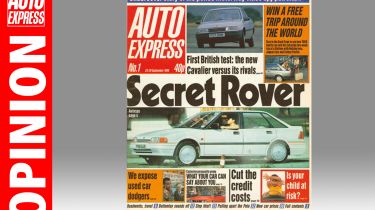 If you had the good sense to invest in the first issue of Auto Express 30 years ago this week, thank you and congratulations. The gratitude is for the support and encouragement we needed then (and still need today) to keep us going. Congrats are in order because if you've still got your copy of AE No.1, you own a collector's item. 
Of the thousands of magazines, broadsheet newspapers and tabloids I've written for and stockpiled over the past third of a century, this is the issue I treasure most. Starting Auto Express from scratch, believing in it, losing sleep over it, then celebrating its 30th birthday is very special and unique. 
• The 30 best cars of the last 30 years
Auto Express has survived and thrived. Sadly, several of the car marques whose retail prices we listed back then have not. And in addition to these now defunct firms, others have simply walked away from Britain. 
Austin, Daihatsu, De Tomaso, FSO, Isuzu (remember the Piazza Turbo?), Lada, Lancia, Reliant, Rover, Saab, TVR (to be continued?) and Yugo are among the most obvious absentees. Then chuck Daewoo's arrival/departure into the mix, plus on/off Chevrolet, Cadillac and Hummer, and all the above are collectively responsible for one lost car marque every couple of years over the past three decades. Not good.
Mind you, Kia, Lexus, McLaren, MINI, Smart, SsangYong and Tesla have all arrived, while wannabees – from Dyson to Polestar – are due. There are also countless Chinese firms threatening to invade. Keep an eye on the big, significant, exciting one, too – Samsung of South Korea. Possibly the world's most under-estimated car company, with the greatest potential.
Like most other things, the price of cars has risen since 1988, but not by as much as you might imagine. For example, the cheapest VW Polo was £5,697 in '88 (when VAT was lower but 'Special Car Tax' was legally stolen from every new car buyer by HM Treasury). Today, the entry-level Polo is £13,860 (which includes a higher VAT rate but zero Special Car Tax). This represents a 143 per cent price hike, slightly below the official inflation rate rise between then and now. More importantly, a Polo is as big or bigger and much better, safer, more refined and kitted out to a higher standard than a VW Golf from '88. 
And while discounting was a dirty word back then, it's obligatory today. Mass-produced cars are often far superior, larger, cheaper (in real terms) and blessed with healthier discounts today. For all that we should be grateful.
Here's to the next 30 years, in which I doubt all cars will be pure-electric. I'll explain more – much, much more – via this column between now and 2048. 
For more of Mike's articles visit his dedicated hub page...