Honda HR-V: Plan the perfect Christmas break (sponsored)
Christmas can be a stressful time, with loads to do and plan, but the Honda HR-V can make it a little easier
We all love Christmas, right? Well, we all love the idea of Christmas, but so much about our end-of-year break is actually quite hard work. And it's not just the planning, although that can undoubtedly be a job in itself, it's the execution of those plans that can turn a relaxing time away from work, into an end-of-year stress-fest.
Something as simple as your Christmas tree can be a major challenge. It's great to have a tall, real tree to put presents under, but while buying one is easy, getting it home is another matter. The Honda HR-V has you covered, though, thanks to its Magic Seat system; both the rear seats and the front passenger seat can lay flat, giving you the space to transport the most impractically long tree. With all those seats laid flat, you've got 2.4 metres of load space to play with!
Those Magic Seats can help you transport the presents to go under that tree, too. If one of your children has a new bike on their Christmas list, that's no problem at all; you won't even need to manoeuvre it through the tailgate. Lift the rear seat bases and secure them to the seat backs, and you'll have an easy-to-access storage space across the width of the car, and thanks to the low point of entry, sliding that bike in and out will be a breeze.
Then there's all the other stocking-up you need to do over Christmas: the bags of wood for the fire, the cases of wine, beer and other beverages. And of course, that huge turkey and all the other Christmas food and goodies we all love to stock up on. With the HR-V, you'll be able to pick up everything you need in one go, saving you time and stress along the way.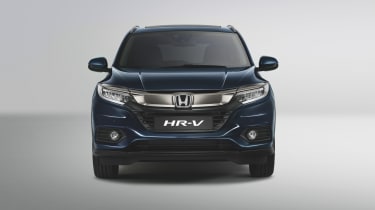 But Christmas isn't Christmas without a big family get-together, which usually involves trying to squeeze everyone, a couple of suitcases and a load of presents into the car before making the long journey to parents or in-laws. Once again, the Honda HR-V can make life so much easier, with enough boot space for everything you need to take, a Garmin sat nav to get you there quickly and without fuss, and an in-car entertainment system that'll let your kids stream music from that iPod Santa brought them.
Then there's the hands-free phone connection that'll make it easy for family to badger you along the way for an ETA, and to remind you to stop off and pick up emergency supplies, multiple times!
With the Honda HR-V in your corner, Christmas really can be the relaxing, fun, family-friendly time that it's meant to be. The HR-V delivers class-leading flexibility and versatility, along with the comfort and technology to make each journey stress-free. Oh, and you'll be able to use those Magic Seats again when it's time to dump that huge Christmas tree.
For more information, visit honda.co.uk