'Why build HS2 for £403m per mile when a road costs £10m per mile?'
With HS2 costs spiralling, Mike Rutherford asks if money should be put into roads instead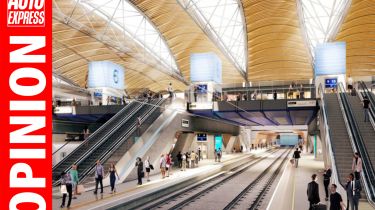 Normally I'm not the sort who kicks someone or something when he/it is down. But with HS2 – the proposed alternative to normal trains, cars, buses, coaches and planes – normality goes out the window.
The crackpot project has barely begun, yet we're already seeing financial anomalies, lack of logic and annihilation of the homes/communities/countryside in its path.
• 'Britain's roads are busier than our neighbours', and it's not fair'
High Speed 2 is a railway that's reportedly costing £403million per mile in scorched earth demolition, compensation, building and rebuilding costs. This puts it on course to become the most insanely expensive stretch of train track on the planet. And due to those suspiciously high build costs, fares will be prohibitively expensive for the masses struggling to get to work or school. Brilliant.
Such lunatic levels of demolition and construction expenditure wouldn't be a problem if unsubsidised, risk-taking entrepreneurial tycoons and companies were prepared to pick up the tab for the £403m-per-mile project that's on course to cost scores of billions (possibly £100bn, maybe more). But it's we taxpayers of Britain who are being set up to fund the HS2 Lunacy Line that's supposed to stretch from London to Birmingham, then on to Leeds and Manchester.
The bad news is that demolition/construction on the London-Birmingham leg has already started. But better news for the taxpayer is that the Brum to Manchester and Leeds sections may never happen. The FT recently reported that HS2 is "flawed" and that "the wheels are falling off". The Telegraph asks if "HS2 is off the rails?" Yup! Even Chris Grayling, the train-spotter-cum-part-time Transport Secretary, reportedly admits "HS2 is not in the bag".
No wonder. It's been superseded by imminent automotive tech including the convoys of cost-effective, zero or mega-low-emission driverless cars (not all of them in convoy form) the Government is now formally backing.
The HS2 business model is toast. It can't work because construction and operating costs, plus fares, are way too high. For example, a bog-standard, peak-time, Manchester-London-Manchester day return ticket that's supposed to buy an unreserved seat or standing room on an HS train will cost the best part of £500 at today's prices – but massively more if and when the service is up and running. That's a big if.
HS2 is clearly pricing itself out of the market. Who in their right mind would construct a limited-hours track for trains at a cost of £403m per mile, when a 24/7 road for driveable and driverless cars costs nearer £10m per mile to build?
More to the point in terms of our personal finances, why would we ordinary working folk pay £1-plus per mile to sit or stand aboard a cramped, rush-hour HS2 train going station to station (don't forget bus or taxi fares getting to/from those stations) when we can pay pennies per mile, all-in, travelling by car door to door? You wouldn't. You needn't. And, unless you've got money to burn, I strongly recommend that you don't.
Do you agree with Mike? Let us know your thoughts below...