'Britain's roads are busier than our neighbours', and it's not fair'
The UK's road network is smaller per square mile than many other developed countries, writes Mike Rutherford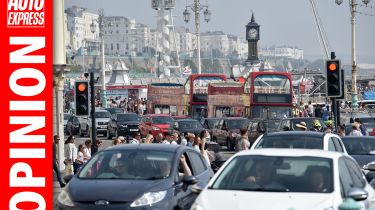 The reason you get the uneasy feeling that roads in developed foreign countries are less congested than ours is that they are. And then some. Generally, our streets are clogged and calamitous; theirs are open and organised.
When focusing on developed 'western' countries, large and small, rich and not so rich, there's no doubt Britain is one of the worst – if not THE worst – for creating road traffic congestion/misery for its citizens and visitors.
• Higher motorway roadwork speed limits to be trialled
To find a dramatic illustration of how woeful the British state is at providing a road network appropriate to the size of our population, look no further than our closest neighbour. France's 67 million residents enjoy roughly 640,000 miles of roads, yet our 66 million folk endure a network of just 263,000 miles. Not fair. Makes no sense. Something's gotta change.
Italy has 61m people, but over 300,000 miles, Spain is home to just 47m citizens who share 424,000 mostly glorious miles.
Up the road in Scandinavia, a mere 10m Swedes gorge on a wonderfully uncongested 360,000-mile network, while a paltry 5m Finns are blessed with 282,000 miles. So Finland's population is 90 per cent smaller than ours yet the country has tens of thousands more miles than us. How did that happen?
In Australia just 24m drivers/passengers exploit 500,000-plus miles of roads. And in the US, 328 million Americans share 4.4 million miles. Canada serves its 37m people extraordinarily well with a 650,000-mile network.
Embarrassingly, in terms of available road per head of population, Britain languishes at number 70-something in the global league table. This puts us behind dozens of comparatively poor countries such as Namibia and Estonia. But at least we're ahead – just – of lands like Botswana and Turkmenistan.
• Robot traffic cones could shrink size of roadworks
It's true that some of the roads in some of the countries with networks much larger than ours are officially unpaved. No matter; I've driven on many of them and know they're often as good as or superior to our potholed 'paved' highways.
Also, don't be fooled by those who claim that Britain has no space to expand its network. It does. Not as much room as nations such as France or Canada, but certainly enough to dramatically raise our ratio of miles of road per head.
Britain covers almost 100,000 square miles. We have the space on, above or below the surface to build many more much-needed miles of highway, consistent with our rapidly-expanding population.
The £1bn drivers/vehicle owners have long paid each and every week in road user taxation will easily cover the land and build costs for our urgently needed roads, bridges and tunnels. They're already bought and paid for several times over.
Read Mike's previous column: 'Britain is blessed with a brilliant MoT system'