'Britain is blessed with a brilliant MoT system'
The ASI think tank is wrong to say our MoT system is outdated, writes Mike Rutherford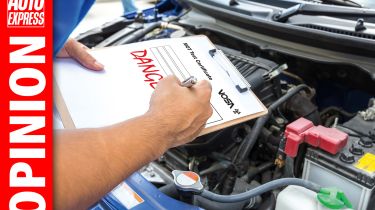 The three things that annoy me most about DAB car radios? Patchy signal strength; not enough proper news; phone-in presenters and callers endlessly referring to Donald Trump as an idiot.
From what I see and hear from him, I don't like him. But an idiot he is not. He needs to be – and is – super smart for first becoming a billionaire, prior to winning enough votes to assume the US presidency, then taking over the job of most powerful person on the planet.
• MoT test changes 2018 - all you need to know
But it falls apart for The Donald when he goes off-piste, stops being the clever man he is deep down and lapses into bouts of utter idiocy.  
And the same is true of at least one or two of those clever chaps at the UK-based Adam Smith Institute (ASI), which modestly describes itself as one of the leading think tanks on the planet while vowing to create a "happier world".
Now I would have thought that things like tyres in good, wholly legal condition, brakes that work and exhaust pipes that don't spew out excessive emissions are all consistent with the ASI's pursuit of a planet that's more happy, and healthy. Yet the other day it issued a formal statement declaring "the idea of vehicle safety inspections is an outdated one". Eh?
"As vehicle technology increases, annual safety inspections are rendered more and more useless," says the think tank that isn't, er, thinking. If it were, it wouldn't be calling for dangerously idiotic reforms such as "the scrapping of the MoT test altogether for all vehicles (except vehicles older than three years entering the UK from abroad)".
"There's an unsubstantiated assumption that inspections increase safety," the ASI insists. "However, this assumption has proven to be inaccurate."
So the experienced, highly educated, registered, regularly trained/retrained motor vehicle engineer who inspects the outside, inside and underside of your car for the best part of an hour as he MoTs it annually is almost useless, claims the ASI. That makes him of no use to you the vehicle owner or driver, not to mention the pedestrians, cyclists and fellow drivers you share the streets with.
• MoT checklist and top tips for passing
Never mind that he can and often does spot actual or imminent defects you probably aren't aware of. Or that for his time, expertise, advice, premises, equipment, computer read-outs and other paperwork he'll charge you, depending on whether you shop around or not, a minimum of £20-something or a maximum of under £60.
What bargain prices. What a brilliant MoT system we're blessed with in Blighty. What idiocy on the part of the ASI for declaring war on MoTs that help save vehicles and, more importantly, the lives of men, women and children.
Do you agree with Mike's assessment? Let us know what you think below…