"Kids aren't learning to drive as they hang on for their driverless pods"
The car industry is set to undergo a radical change in the next five years, but Mike Rutherford wonders if that's a good thing...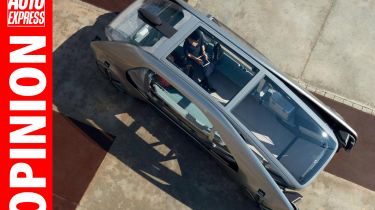 Please, can we all start the new year by taking a deep breath, before thinking very carefully about where things car-related are heading in 2019 and beyond? The argument is that the motoring scene will undergo more change in the next five years than it did in the previous 50. I think that's possible. But it's also unwelcome, unnecessary and unworkable.
Who are the motorists demanding this short, sharp, shocking, untried and untested upheaval? Not a single one I've met, received mail from, or talked to on radio phone-in programmes.
Meanwhile, I do have a mate who's a driving instructor, going out of business because his once-solid customer base of young men and women is deserting him. Apparently, kids aren't learning to drive as they hang on for their driverless pods – which may or may not be coming their way at a price they can afford. We simply don't know.
• Everything you need to know about autonomous cars
Change is good when it occurs at a sensible, controlled pace. Yet it's plain bad, and can be horribly counter-productive, when it happens too fast. A fine example of this is the flawed, idealistic rush to ban our internal combustion engines (which most of us love), before forcing those of us who enjoy driving into robocars that'll steer themselves. Why? Who says? Where are the research findings proving that this is what the public wants?
I'm all for genuine improvements, moving the game on, adopting an onwards and upwards approach. It's this positive spirit that has massively transformed the quality, safety, reliability, comfort, efficiency and cleanliness of cars over the past half century. But why such a mad rush to replace current tech with new tech? How come so many motor industry people, and politicians, are so keen to talk up and spend billions they haven't got trying (and largely failing so far) to kill off petrol and diesel?
Can we adjust our priorities and slightly slow down the urgent tech-based "fix" that the unbroken motor industry is unnecessarily subjecting itself to, at alarming speed, and at colossal/unsustainable financial cost?
Rather than collectively racing to spend trillions on non-traditional vehicles and alternative fuels most of us didn't ask for, I'd prefer it if they concentrated on improving economy; eliminating breakdowns and break-ins; bringing their car and servicing prices down; improving their dealer networks – important, real-world stuff that impacts us day to day.
Never forget you'll still be able to buy new and used cars with internal combustion engines over the next two decades or so. Let's not pretend they're going away any time soon – they're not. Far less certain is what type of non-traditional, alternatively fuelled vehicles we will be driving – or riding aboard – in the short, medium and long-term future. If you're middle-aged, you could be driving internal combustion engine-powered cars for the rest of your driving life. My guess is you probably will.
Are you excited by the future of the car industry? Let us know your thoughts in the comments section below...