Officer cuts have left roads like 'Wacky Races' says police chief
Police Federation chairman says officer cuts jeopardise road safety; condemns high anti-social and dangerous driving on UK's roads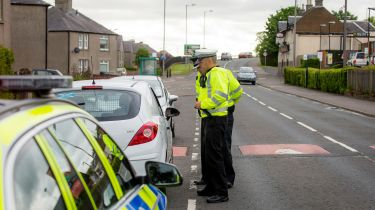 A senior police figure has described cuts in the number of roads traffic officers as having left the UK's roads "like Wacky Races".
John Apter, chairman of the Police Federation, said drivers now feel free to drive as dangerously as they like, without having to worry about being spotted and pulled over by a marked police car.
• Less than half of all stolen cars recovered by police
Speaking at the National Roads Policing Conference on Tuesday, Apter said: "You'll see motorists regularly driving in an anti-social, dangerous and aggressive way.
"They're just not being caught and it's only going to get worse. They're driving without a care. You can drive hundreds of miles now and you might see a highways agency traffic officer or a speed camera.
"But very rarely will you see marked police cars patrolling the motorways moderating people's behaviour. Road policing is seen as something nice to have. It's not seen as essential."
According to the latest Home Office figures, the number of dedicated road traffic officers has dropped by 11 per cent from 5,237 in 2016 to 4,658 in 2018.
Apter called for the number of dedicated road traffic officers to be reinforced in order to create a visual deterrent to bad driving, arguing that dashcam footage is not a fitting replacement for police patrols.
Meanwhile, the relatively few dedicated road traffic officers left are struggling with smart motorways, having complained the lack of a hard shoulder means they sometimes have to follow suspects for a number of miles before there's somewhere safe for them to pull over.
• Drivers should pay for fuel in advance, says police chief
At present, a further 200 miles of smart motorway with no hard shoulder is planned, but some MPs have called for this rollout to be halted over safety concerns.
Apter also told the conference that drink-driving laws are too lenient and called for the limit to be reduced in order to reduce road deaths and injuries.
"We can't even respond to 999 calls at the moment, let alone target drink-drivers," he said. "I don't believe the reduction in offences is because people aren't doing it. It's because they aren't being caught."
It follows news that West Midlands Police only has 302 breathalyser kits between over 6,500 officers.
The number of breath tests carried out in the UK decreased by 42 per cent over the course of six years, from 563,427 in 2011 to 325,887 in 2017.
In addition, the number of drivers caught using a phone behind the wheel has fallen by 67 per cent, seat belt offences by 87 per cent and vehicle tests by 38 per cent.
Do you agree that our roads have been akin to 'Wacky Races'? Let us know in the comments below...